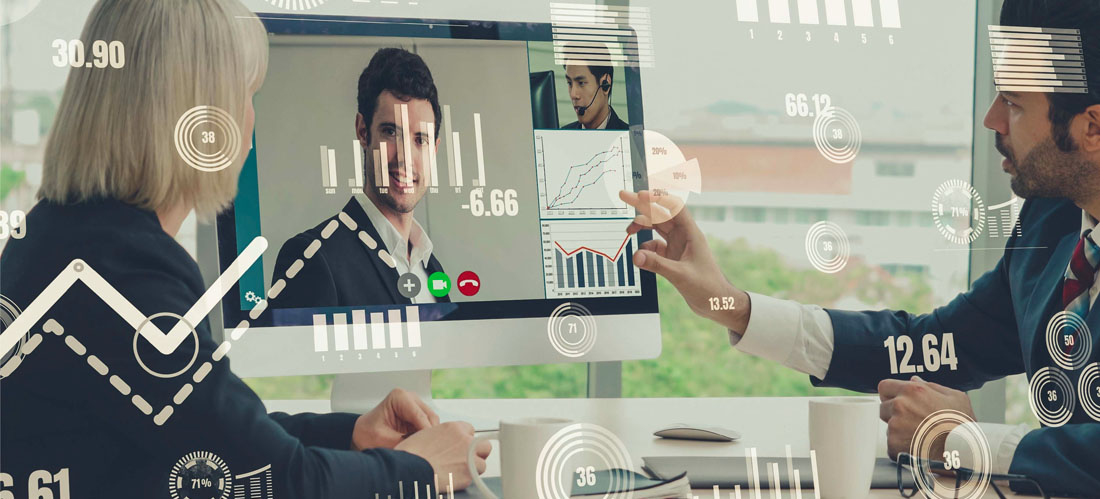 Making data useful is an essential part of driving decisions for enterprises. The measure of successful business productivity and adaptability lies in utilizing dormant data in the face of rapid changes. Empowering the front-line of business through AI and analytics will create ample opportunities for growth and long-term stability.'
IDC states, "By 2022 50% of G2000 companies will have active development teams seeking to externally monetize their data to enhance traditional offerings, drive innovation, or deliver Data & Analytics as a Service".
The case is no different for SMEs as data-driven apps that can intelligently adapt their behavior to the needs of business are at least 30% of the lot, in a similar forecast by IDC.
However, most businesses do not know how best to operate in a rapidly changing industrial environment through the right usage of analytics. But Innominds has a properly outlined strategy when it comes to helping businesses utilize their data potential. We implement automation through accelerators that can scale up any data-related initiatives to help you to serve your customers with powerful digital transformation steps.
Therefore, we have identified the Top 10 in industrialized AI solutions that enterprises can leverage to their advantage:
Portfolio Analysis & Value-at-Risk


As the need to keep pace with changing customer expectations is on the increase, creating a better service experience through portfolio management and analysis will change the face of your business for customers.

Portfolio management and optimization is a step towards estimating the value-at-risk for each portfolio. It can quantify the level of financial risk and capital adequacy with the click of a button.

Intelligent Incident Management System
You can only stay adaptable to technology changes by adopting new and disruptive business models. An intelligent incident management system can be a valuable asset to any organization that wants to handle critical incidents on a systemized and high-priority basis.

Incident management systems can reduce ticket resolution times by automating the ticketing for any raised concerns. The automated system learns from old ticket information and the knowledge repository to form intelligent decisions.

Adaptive Fraud Management

Financial organizations are upping their game with regard to fraud management to better serve customer loyalty through AI and data analytics. For banks and other financial institutions, managing fraud has been a daunting headache that is about to be set right through such AI-driven fraud analytics.




The system learns from every previous fraudulent behavior and activity that should trigger an alert to the institutions. It creates an automatic usage and behavioral profile to monitor fraudulent activity. This can prompt taking the measures to prevent such actions early on.

Credit Risk Assessment
On a similar note, credit risk assessment is a boon to organizations that render services based on credit. Machine learning algorithms can accurately analyze customer data by considering all the past purchases, lifestyles, and attitudinal changes. It does not rely purely on a score sometimes prescribed solely by demographics.

Recommender System
E-commerce websites do well by applying strategies such as up-selling and cross-selling to motivate customers to shop for products based on their past purchase interests. Owing to the huge success in this area, more and more retail websites can benefit from AI-driven recommendation systems. These systems predict customer preferences. And, they make decision-making easy for them with intelligent search features.

Chatbots

Chatbot solutions or conversational AI is a valuable addition to companies that struggle to manage customer complaints through on-call resolutions. Most conversations with prospects and existing customers that are simple queries can be automated with a chatbot feature.

Innominds' conversational AI is powered through industry-best solutions, offering a wide range of engaging features to produce intelligent responses. There are mainly three different variations of chatbots, namely, 'Question and Answer Bot', 'Contextual Bot' and 'Cognitive Bot.'

Customer 360-degree


Understanding customers and their interests have always been the main driving force behind any successful organization that has withstood the test of time. Innominds offers the '360-degree customer view' to predict customer activity through scalable services and integrated analytics.



Operation Analytics
Operational analytics ensures that services can address business scalability and drive better customer experiences. This solution defines a business process or operation through AI and ML by automating time-consuming parts of the workflow to build higher efficiency.

It can effectively monitor real-time operations for KPIs that cover the entire customer experience, risks, and compliances.

Computer Vision & Image Analytics


Computer vision with image analytics is one of the coolest applications of AI and machine learning that can replicate human vision for powerful use cases. It can help in traffic management, security implementations, object detections, and more.




Today, Innominds has its expertise in using computer vision for automated number plate recognition, face and object detection, edge detection, signal detection, and ATM surveillance among many others.

Invoice Processor Solution
Applying deep learning-based intelligent mechanisms and OCR, large and complex invoice processing can be done with automated invoice processing.

Locating information in scanned invoice images and anomaly detection can easily assist in invoice data collection and processing. The data that is seen as questionable can be reviewed by users and verified before feeding it to the system. OCR extracts the data an NLP is deployed to classify it for later usage.
So, there you go with some of the best applications of AI, ML and analytics in today's enterprises for a larger ROI and easier management through decision-making. We can implement many highly efficient omnichannel experiences for customers to stay loyal to your particular brand through these advanced integrations into your services. It's a great way to expand and capitalize on new revenue channels.
Combining our deep industry domain expertise with innovative AI, ML, and deep learning engineering in sectors such as pharmaceuticals, retail, education, security forces, manufacturing, and SaaS, we can quickly deploy ready-to-use solutions to help clients. You can create great value for the business by boosting productivity and efficiency in handling day-to-day and complex integrated activities.