More than a decade ago, most of the organizations opted for commercial tools like QTP, Silk Test etc. to automate the applications. But with the rise of agile methodologies and with the ever-increasing importance of continuous development & continuous integration, and with the availability of matured open source tools having a terrific supporting eco-system, they have unarguably become a viable alternative now. Hence, we see most of the organizations migrating from commercial tools to open source. Here are few key points to ponder on both Open Source and Commercial Tools option:
Open Source

Commercial Tools

Free of cost

Easy availability

Support multiple technologies & operating systems

Require strong technical skills to use

Freedom of customizing the source code

High cost and licensing prices

24 X 7 dedicated support

Technology specific

Easy to use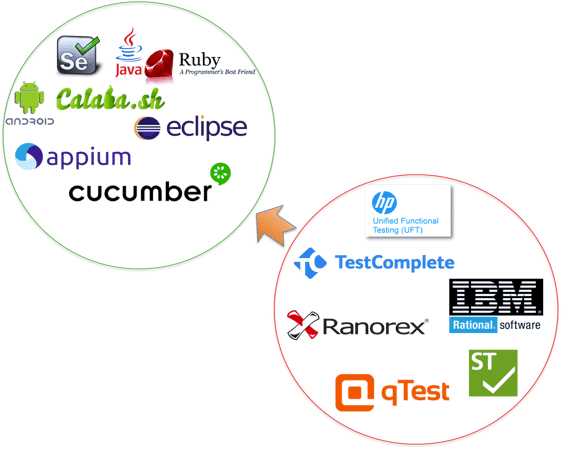 Innominds Test Automation COE has deep expertise in diverse Automation tools and Frameworks used for various Applications across Web, Mobile, APIs and Desktops.
As part of the continuos innovation, we developed homegrown Automation accelerator, Harmony ™ built up on open source technologies.
There are several reasons and factors for migrating to open source tools from commercial tools. Here are few compelling reasons.
Low Maintenance Cost
Most important factor is, it is budget friendly. We do not need to spend a fortune to use the open source software/tools. They are available absolutely free of cost. Also, we get frequent software/tool updates to support the environments and browsers.
OS & Language Compatibility
Most of the open source tools support multiple programming languages like C#, Java, Python etc., so there is no need to put an extra effort on training the resources on technologies. Also, these open source tools are OS agnostic and we can use them on most of the operating systems.
Flexibility
Most of the open source tools come with the source code. It gives us the ability to modify it as per our needs. The flexibility that comes with an ability to customize the tool to our specific work flow or for our organization's business logic properties, makes open source undeniably a great option.
Code Reusability
Most of the open source tools are language independent and can support most of the object oriented languages. The major advantage of the object oriented languages is code re-usability. We can maintain the common repository of the code and can re-use it anywhere.
Cloud Compatibility
Open source tools always give us a chance to integrate with cloud where we can perform our test executions on multiple environments and multiple browsers. Once we are done with the environmental setup on cloud, then we can execute all our automation scripts anywhere, any time.
Active Support
We will get wide range of support from the developer community who actively engage in solving the issues and share the information on new features, updates etc. The vitality of an open source tool primarily depends on the constant work of volunteers using the code and either fixing issues or reporting them. With the help of developer communities and automation engineers, new issues are bound to get discovered, and can be quickly repaired most of the time before any serious damage can take place.
Ease of Execution & Reporting
Open source tools might sometimes offer exciting customization options to build up on the technical capabilities of the testers, especially in areas such as reusable frameworks, enhanced reporting capabilities etc. Most of the open source tools will support parallel execution of tests on different environments. This parallel execution saves lot of time when we are automating bigger applications.
Innominds is a dedicated product incubator for technology industry clients seeking help with Design, Technology and Quality Engineering solutions across all stages of their product life cycle. We have deep expertise in Quality Engineering with extensive experience in setting up dedicated and secured Offshore Development / Test Centers with replicated client environments for technology companies and Enterprises, ensuring Quality @ Speed.
Interested! For any demos or POCs, please write to us at marketing@innominds.com and know more about our offerings.