Innominds' iFusion Analytics solves the data challenges that hinder enterprises today. Our data mining framework iFusion:
Simplifies data preparation so you can interact with data quickly and understand key relationships more intuitively
Helps you build powerful, stable and accurate models quickly and easily.
Quickly and effortless puts your models into service – within hours rather than days.
The iFusion approach is simple. It very quickly reduces complexities from what normally is a month-long process, reducing it to just minutes!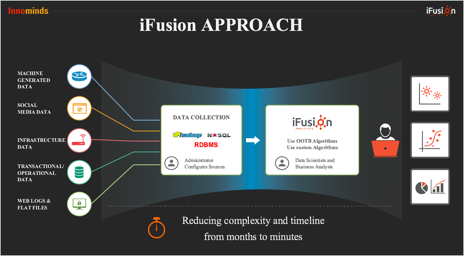 Here is a quick overview.
Cuts down the efforts from days to minutes, allowing you to capitalize on your data.
Helps your data scientists and business analysts focus on the solution, eliminating the complexities of moving data around, accessing database records, logs, documents, social media data and other forms of data.
Simplifies the steps required for data scientists and business analysts before applying the desired algorithm by automating the required steps with a workflow.
Provides a standard SQL interface to access poly-structured data so that the user can ask questions and/or build data models in an easy to use way.
Contact us today for a demo of iFusion and start capitalizing on your data today!