How will medtech companies ensure the development of a secure Internet of Medical Things (IoMT) to truly enable the transformation of healthcare at speed and scale? The Innominds the 2nd Fireside Chat with Microsoft and Activ Surgical will provide you the answer by exploring how Microsoft Azure IoT can enable AI-assisted surgeries to be safe, compliant and reliable.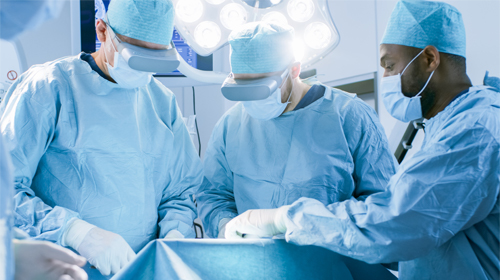 AI, autonomous AI and the Internet of Things (IoT) devices are increasingly driving the much-needed change in healthcare delivery making it efficient, reducing costs, improving patient experience and outcomes.
Now add the low latency of a 5G network to the mix bringing together sensor-fitted wearables and IoT medical devices, software applications, cloud, analytics and health systems and you get the Internet of Medical Things (IoMT)—an ecosystem that is set to completely revolutionize healthcare. The focus in such a system will be on proactive, preventive and personalized care rather than on reactive, symptom-based care and diagnosis requiring in-person visits to hospitals.
Of smart shirts, boots and pills
The central feature of the IoMT is the ability to generate, collect, transmit and analyze patient data to enable continuous monitoring of patient health. Healthcare providers are increasingly adopting remote patient monitoring solutions that enable doctors and caregivers to access patient data in real time from sensors (such as in wearables like Fitbit activity trackers and smart shirts). These track patient health and help doctors to take proactive measures where necessary. For example, a study by the University of Waterloo, Canada , showed that smart shirts could be used to monitor and predict deterioration in a patient's heart health. Or take the case of a software and wearables company, Sensoria Health , which helped invent a smart boot with IoT sensors that connect to specialized software for continuously monitoring diabetic patients at high risk of foot amputations.
IoMT can also transform drug management. Smart pills equipped with sensors monitor patient's internal health and measure the efficacy of medications while smart drug delivery devices can enforce adherence to medical treatment.
Safer robotic surgeries
Similarly, in the area of AI-assisted robotic surgeries, the implications in terms of access and accuracy on healthcare delivery cannot be overstated. Autonomous robotic surgeries conducted remotely could be one such. World-class surgeons could potentially perform surgery from anywhere in the world without having to be physically present in the operating room. 5G with its extremely low latency and superb end-to-end connectivity is making remote surgical procedures much safer than ever before.
Saving billions of dollars in healthcare costs
The impact of IoMT will be on cutting hospital readmissions, increasing healthcare access to underserved areas, streamlining hospital workflows, early detection of disease, drug management, and on considerably reducing costs by hundreds of billions of dollars. As far back as 2015, Goldman Sachs had estimated that IoT devices would result in a $300-billion savings in annual healthcare expenditures.
The potential is enormous. With the growth of IoT medical devices, estimates show the IoMT market ( consisting of smart wearable devices, home use medical devices, point of care kits for applications ranging from real-time monitoring, end-to-end connectivity, tracking and alerts to remote medical assistance) is expected to touch USD 254 billion in 2026, up from USD 44 billion in 2018, growing at a CAGR of 24.4% during this period.
How will medtech companies harness the potential in this market to truly enable the transformation of healthcare at speed and scale?
Part of the answer lies in building the capabilities to collect and analyze the mountains of data generated by millions of IoT devices. These need to be turned into usable insights with advanced analytics, stored and transmitted at the right time to the right people within various healthcare IT systems to create value for healthcare providers and patients. The ability to generate, analyze and transmit insights about patient health status and care, surgical procedures, hospital workflows, etc, will help medtech companies grow more rapidly.
This is where two crucial factors will also help medtech companies drive momentum in building connectivity at scale: data security and the role of cloud platforms such as Microsoft Azure IoT.
The security bugbear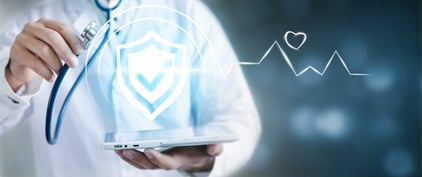 Security concerns need to be addressed first before IoMT systems can be scaled. Because of the multiplicity of connected devices and collaboration between IoMT stakeholders—payers, providers, medtech companies and others—the risk of cyberattacks increases manifold. IoMT devices such as seemingly innocuous ones such as fitness trackers or an unpatchable sensor could be a point of entry of hackers into the network.
However, it would be challenging for healthcare providers to design and deploy appropriate security strategies that take into account dependencies on other players in the system. They must actively work together to prevent viruses and malware in their connected devices and network monitoring solutions and to proactively defend their wireless networks. IoMT players need to also address the issue of the lack of a unified protocol or standard for digital healthcare services that inhibits the development of IoMT applications.
Harnessing the power of cloud computing
Cloud services are essential to orchestrate complex data gathering and analysis and run solutions that make a difference. An IoT solution by definition is made up of one or more IoT devices that communicate with one or more back-end services hosted in the cloud. Microsoft Azure for IoT is a leading cloud services provider. Over 75% of the Fortune 500 healthcare organizations and pharmaceutical companies use Microsoft Azure as a platform to build or deploy IoT solutions.
Microsoft, Activ Surgical—a pioneer in AI-assisted surgical systems, and Innominds will come together for a virtual Fireside Chat on Oct 15, 2020 to discuss how Microsoft Azure could be leveraged to address issues of reliability, security and compliance for AI-assisted surgeries.
Against this backdrop of the developments and issues in IoMT here's a glimpse of the topics we will cover in the upcoming Innominds Fireside Chat session—the second of the series that was launched in August, this year, to highlight stories of how technology leaders are powering the Digital Next.
This fireside chat will highlight how Microsoft Azure IoT is making AI-assisted surgeries with Digital Twins and Internet of Medical Things (IoMT) a reality through seamless cloud connectivity, real time inferencing and training workloads.
In this conversation, Microsoft and Activ Surgical leaders will dwell on:
How IoMT will make healthcare efficient, improve patient outcomes and revolutionize drug management and cut healthcare costs.
How medtech companies can add value to the healthcare ecosystem by leveraging cloud platforms such as Microsoft Azure IoT to build secure and compliant end-to-end solutions that truly improve patient outcomes.
How medtech companies such Activ Surgical are meeting security and compliance needs in their AI-driven, computer vision and IoT-based surgical systems.
As the adoption IoT devices grows, how will the healthcare system address the challenging problem of security and privacy?
How will Digital Twins play a role in the greater adoption of AI-assisted surgeries?
What kind of AI and IoT-based systems and products using Microsoft Azure IoT platform are helping reimagine healthcare delivery?
How will medtech companies harness the potential in this market to truly enable the transformation of healthcare at speed and scale? Will they need to change their business and operating models?
For a ringside seat at the Fireside Chat, register here!
References:
https://uwaterloo.ca/systems-design-engineering/news/systems-design-professor-and-waterloo-researchers-combine-ai