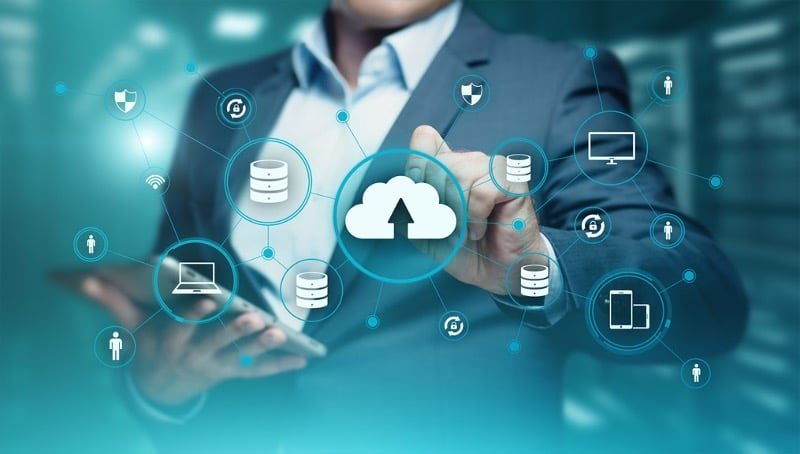 Gartner predicts the worldwide public cloud service market will grow from $182.4B in 2018 to $331.2B in 2022, attaining a compound annual growth rate (CAGR) of 12.6%.
Overview
Over the past few years, Cloud Computing and everything that it has to offer has taken the tech world by storm. Even though it is not a new technology per se, it has become easier to deliver computing resources to businesses worldwide because of this computing model. Moreover, it could be done at a fraction of their actual costs. Today, the computing needs of a company have reduced due to internet-powered Cloud Migration and Automation, which is assisting numerous businesses across the globe to make seamless transitions. Across industry verticals, Cloud Engineering is playing an essential role in enabling the Digital Transformation of enterprises. From modernizing applications to scaling up enterprise systems, Cloud Engineering is the featured initiative in the scheme of things for an organization's IT strategy.
COVID-19 Bearing on Cloud Adoption
The COVID-19 pandemic forced the governments to impose a lockdown. This was followed by a domino effect wherein organizations across the globe were left with no option but to adopt the facility of seamless remote work. Due to this phenomenon, cloud computing emerged as a must-have technology to access critical applications and scalability of the infrastructure.
With remote working becoming the new business norm – there was less dependency on on-premise infrastructure and resources. The ability of enterprises to use Infrastructure as a Service (IaaS) aspects of public cloud and application capabilities, which allow on-demand scale up and scale down of resources, have become relevant and imperative both for the positively and negatively impacted sectors and industries.
The enterprises have been slow on cloud adoption and migration primarily because of being capital intensive, long migration roadmaps, and lack of in-house skills. Another factor that might have slowed such migration was BAU not being impacted.
With cloud adoption, adversely impacted sectors like travel, hospitality, entertainment, etc. can quickly scale down the infrastructure cost by scaling down/shutting down the instances, thereby reducing their operational expenses. Having said that, it might not be accurate for those who invested in on-premise infrastructure or where the architecture was monolithic, not providing them the avenues to shut down a few instances and operate in scale-down mode.
Sectors that have been positively impacted by COVID-19 like healthcare, web conferencing, content streaming, firewalls, and e-commerce websites may have struggled to scale to demand unless they have been architected to adopt cloud technologies. Current business demand may have been catered with vertical/horizontal scaling capabilities. However, it would have been time-consuming and with increased operations/support costs.
With right cloud-native solutions/applications, scaling can be easily achieved through configuration, especially for enterprises that adopted cloud.
Innominds' Components for Cloud Adoption, Migration & Modernization

Innominds follows a robust and flexible cloud adoption and migration approach that entails apps, analytics assessment, infrastructure assessment, and cloud testing, which provides organizations the required edge that secures, modernizes, automates, and cuts cost. The total value of the cloud is realized by adopting a cloud-first strategy for new systems. This transformation is made possible and feasible by the standardization and automation of the IT environment through an open API model, and leveraging new capabilities to drive innovative business solutions.
Keeping in line with the strategy, Innominds' provides four critical components to an organization:
Assessment: Innominds identifies the enterprise applications that can be moved to the cloud using various cloud assessment tools to assess the performance and capabilities of the various cloud services. Subsequently, it brings efficiency, which, in turn, accelerates organization's cloud adoption journey.
Architecture & Design: Our architecture blueprint and implementation roadmap for handling high volumes of data, multi-tenancy (if required), and overall scalability goes a long way in an organization's journey of cloud migration and modernization.
Migrate: Innominds assist organizations in migrating the application to cloud- based on one of the finalized approaches - Rehost, Refactor and Re-engineer.
CloudOps: Innominds plays a vital role in setting up CI/CD and automate application development and configuration management, infrastructure deployment, and consolidation. Additionally, we assist in monitoring cloud services usage and performance apart from resource utilization and operational health of services. As and when required, Innominds provide auto- provisioning/de-provisioning of servers.
Cloud Security
One of the overarching priorities across all the phases of cloud adoption and migration is "cloud security." Cloud security, also known as cloud computing security, is made up of a set of procedures, policies, controls, and technologies that work in tandem to protect cloud-based systems, data, and infrastructure. The security mentioned above are in place to protect customers' privacy, cloud data and authenticate rules for individual users and devices.
It ensures the security of the application assessed, benchmarked and enforced. As the first step of cloud assessment, security testing is given paramount importance as it determines the baseline, and incrementally fix and update the application ensuring it matches the industry security standards and requirements before being deployed to the cloud.
Cloud-Based Collaboration Tools
Down the line, for enterprise applications, features such as remote monitoring, automated alerts and remote troubleshooting aspects will gain focus towards minimizing the onsite support or will be enabled through cloud-based collaboration tools.
With cloud adoption becoming imperative, it has become a norm among organizations to work with their customers to accelerate cloud adoption. Some of the accelerators and solution frameworks comprises of templates for cloud migration and they include the following:
Pre-defined automation scripts and templates for servers, network, firewall, security, application and database configuration/setup and deployments
Moving from traditional ways of managing infrastructure to "Infrastructure as Code"
Blue/green deployments to reduce downtime and risk
Containerization, management and orchestration using Kubernetes
Microservices based application provisioning and deployment
Achieving UI auto-elasticity through Micro Frontends
Future of Cloud Migration
In the world of cloud computing, various players are providing "security" as a service. Organizations having a fear of security and privacy will be more than happy with cloud computing and will adopt cloud migration. Some of the industry predictions of cloud migration are as follows:
Cloud computing will allow everybody to be a service provider
In future, most people will work in Internet-based applications and in applications run from smartphones
Employees will be in a position to use any device to access and manage their work
Very soon, personalized service providers will be in the cloud market who will develop partnerships to leverage the advantages of Big Data and Mobility
Conclusion
In today's world, cloud computing is an emerging field. With the capacity to provide tons of benefits to the companies and customers alike, organisations are shifting their focus on cloud and its development in today's computer world. Now, as cloud computing is slowly but surely making its presence felt across organisations, the delivery of on-demand computing services, from applications to storage and processing, is growing. So companies are shifting their focus onto cloud and cloud development by migrating their existing legacy systems to cloud.
In the present context of cloud computing, there is an urgent need for a cloud provider who will provide end-to-end migration processes with as little cost and high-level security as possible. This, in turn, will encourage more and more companies to adopt cloud migration and move their present systems onto the cloud.
Author Bio: Sameer is working as Senior Architect - Solution Engineering at Innominds and is responsible for solution and pre-sales support, extending technical and domain expertise to leverage opportunities across geographies. He has over 15 years of IT experience encompassing pre-sales, design, development, maintenance & production support of IT systems. Sameer has significant exposure to technologies, cross-domain experience, and a deep understanding of enterprise architecture for business & operation support systems.