Over the years, Fintech has grown up and grown out. From being just a back-office support function in banks to becoming a basic requirement for all businesses today, Fintech has evolved and has been rapidly adopted worldwide. According to the Global Fintech Adoption Index, the adoption of Fintech doubled every two years in the last decade. From 2015 to 2019, the Fintech industry grew from 16% to 64%. When the Global Pandemic cast a doom in 2020, the adoption of Fintech accelerated even more than before. During the pandemic, Fintech helped businesses and users to rapidly migrate to digital payments. In a way, the pandemic accelerated the adoption and growth of an already rapidly growing Fintech industry. Today, the Fintech industry is no longer constituted of startups but is a host of seasoned companies, operating on a global stage and offering a wide spectrum of financial services.
The year 2020 was the year of Fintech adoption and the year 2021 has been the year of Fintech innovation.
The Fintech innovation has already been kickstarted as businesses are working towards leveraging emerging technologies such as Artificial Intelligence (AI), Machine Learning (ML), Natural Language Processing (NLP), and Deep Learning to eliminate redundancy in financial services and offer faster and simpler services to end-users. Businesses are also working towards automating their financial operations for a faster turnaround.
Today's agile businesses are rapidly trying to incorporate fintech solutions within their offerings. Innominds has stepped up and offered its expertise to many financial organizations as well as fintech companies and helped them become truly remote first and ensure business continuity. Along with fintech innovation, Innominds has also helped organizations in ramping up their cyber security systems to increase the reliability and security of all their fintech solutions.
Snapshot of Innominds Expertise in BFSI Vertical
Platform Engineering across multiple BFSI Segments
Product development and maintenance
Brokerage processing system for a financial solutions client.
B2B Integration
Robo-advisory platform integration with strategic portfolio system.
Global Index Solution
Integrated and scalable platform for index R&D and index operations enabling to build data, rules, workflow, and analytics capabilities.
Cognitive Spend Insights
Rapidly classify complex transaction data, achieves faster & deeper insights from unstructured transactional data.
Delivering Predictive, Prescriptive, Descriptive & Edge Analytics for Banks & Fintech companies
Prescriptive Analytics
Built new customer onboarding workflow using facial imaging and emotional analytics.
Edge Analytics
Safeguarding ATMs and raising alarms and alerts on detecting anomalies.
Predictive Analytics
Fraud detection and prevention, another avenue for BFSI companies to improve profitability.
Delivering Identity and API Management Solutions for Banks
B2B Service Integration
Assessment & Revision of the operating model for production roll-out.
SSO on Web and Mobile
Single Sign-on to securely interact and provide banking services to its large and growing consumer base.
Security Engineering
Securing the APIs from threats and vulnerabilities when exposing the APIs to the external world.
Mobile SSO and API Security
Enhanced API management platform with CA API platform for mobile access to secure APIs enabling higher mobile app adoption.
Application Modernization & Platform Integration for Fintech companies
Payment Application Development
Developed a secure and PCI compliant payment solution driving the client's business towards digital money.
Application Development
Modernization of legacy applications for the client to display and sell its Internet products and advertising services.
Payment Gateway Integration
Payment gateway integration for Big-4 Consulting Firm.
B2B Platform Integration & Credential Management
B2B platform integration and credential management enhancement with 2-factor authentication for one of the leading global fintech companies.
Blockchain Technology for Fintech companies
Blockchain & Gold Trading
A distributed settlement system to eliminate third-party verification and provide real-time transactions to participants.
Blockchain-based Monitoring log
Developed a monitoring log solution that captures attestations from participants for external auditors to assess consistency.
Cognitive platform
Audit Tie Out system that automates one of the most arduous tasks of public accounting tying out financial statements.
Learning & Development Insights for Insurance Sales Agents
Developed a learning and development tracking and evaluation platform for insurance sales agents.
Competitor Intelligence Platform for Insurance Company
An intelligent platform to provide insights by comparing the financial parameters across the competitors thereby enabling to evaluate the performance.
Innominds' Fintech Expertise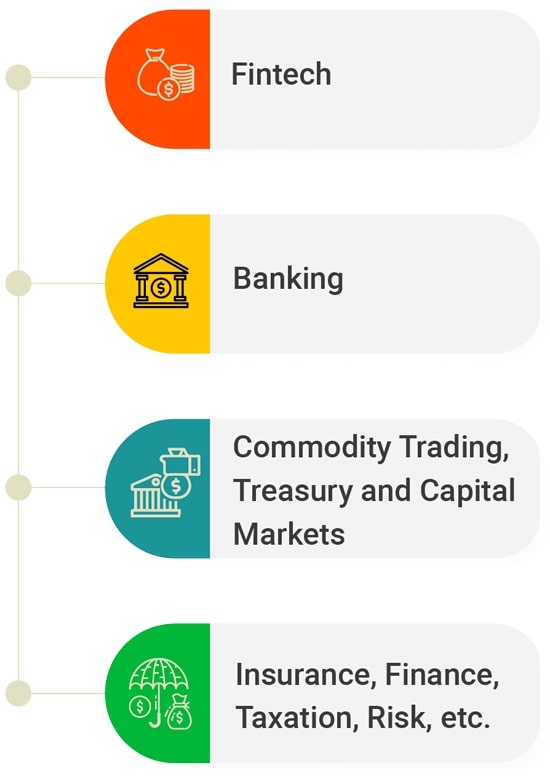 Over the years, Innominds has developed several solutions to assist businesses in their fintech transformation journey. Innominds has powered multiple 'Digital Next' initiatives of global enterprises, software product companies, OEMs, and ODMs. It works with ISVs to build next-generation products, SaaSify, transform total experience, and add cognitive analytics to applications.
Innominds Solutions made for Businesses to Embrace Fintech and Become Remote First
iFusionTM
A state-of-the-art autonomous AI platform that allows full lifecycle AI management, data exploration, modeling to production addressing maintainability, scalability, and governance challenges.
iSymphonyTM
A proprietary Low-Code, No-Code platform that helps to create, test and deploy an enterprise-grade web or mobile app in a few days or hours.
iHarmonyTM
A next-gen AI-driven full-stack test lifecycle automation platform for cloud apps, cognitive analytics, and integrated devices testing.
Future of Fintech 2021
Hosted by CB Insights, the Future of Fintech 2021 event is one of the major gatherings for Fintech experts and enthusiasts. This year, it is a forum for understanding the evolution of financial services and as a live marketplace for connecting industry buyers and sellers. Innominds, being the technology partner for multiple fintech initiatives across the globe is a proud exhibitor at this event. It is being hosted in the city of New York on the 5th and 6th of October 2021.
To be a part of this major convention, register today and book a demo of our solutions at Kiosk Number: K6.