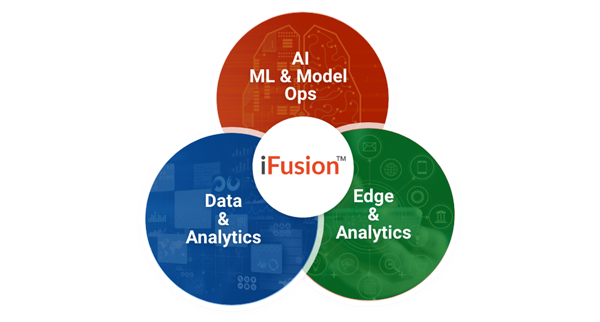 Powers full lifecycle AI management from data exploration to modeling to production – MLOps, ModelOps, Edge Analytics and DataOps
iFusion.ai platform accelerates the application of AI, ML and Analytics for Businesses in the Cognitive Era. iFusion.ai is an Autonomous AI platform that enables self-driven and sustainable enterprise AI adoption for intelligent decision-making. In the series of blog posts that am putting together, I will articulate why and how Innominds-iFusion.ai is a compelling platform for enterprises and ISVs looking to take advantage of full life cycle AI management for a successful business.
Businesses of all sizes are looking to adopt AI in everyday processes as they realize its immense potential in transforming business outcomes. However, many are struggling to put it in action predominantly due to increasing data volume and complexity, and difficulty in integrating AI solutions with existing infrastructure. Unlike software deployment, deploying models does not end with provisioning infrastructure and copying code. They must be constantly monitored and regularly retrained as required. According to Gartner "Approximately half of all AI models never make it into production due to lack of ModelOps".
History of iFusion
From its inception to today, in the last 7 years, Innominds iFusion has come a long way in solving interesting problems and use cases transcending data, analytics and now enterprise AI. The architecture of the platform has always been evolving and supportive of what we believe is required for a seamless data orchestration to help effective business decision making and adding the AI layer to help make it even powerful.

Patents and thought leadership: Innominds iFusion has always been at the forefront of innovation and engineering excellence reflecting in the below patents the platform has already in place and many more in the process of being filed:
Distributed algorithm to find reliable, significant and relevant patterns in large data sets. #15166233 26-MAY-2016
Method for searching for reliable, significant and relevant patterns. #14960439 06-DEC-2015
Market trends, needs and challenges:
By the end of 2024, 75% of enterprises will shift from piloting to operationalizing AI, driving 5X increase in streaming data and analytics infrastructures" – Gartner
In 2021, we will see new business models emerge that facilitate the deployment of edge, efforts by cloud platforms to compete, and AI and 5G facilitating the expansion of edge use cases." - Forrester
ModelOps is a superset of MLOps, and inversely, MLOps is a subset of ModelOps. It is to be noted that every good ModelOps capability will, by default, have a good MLOps capability, but the inverse may not hold true." Gartner
Barriers to AI implementation :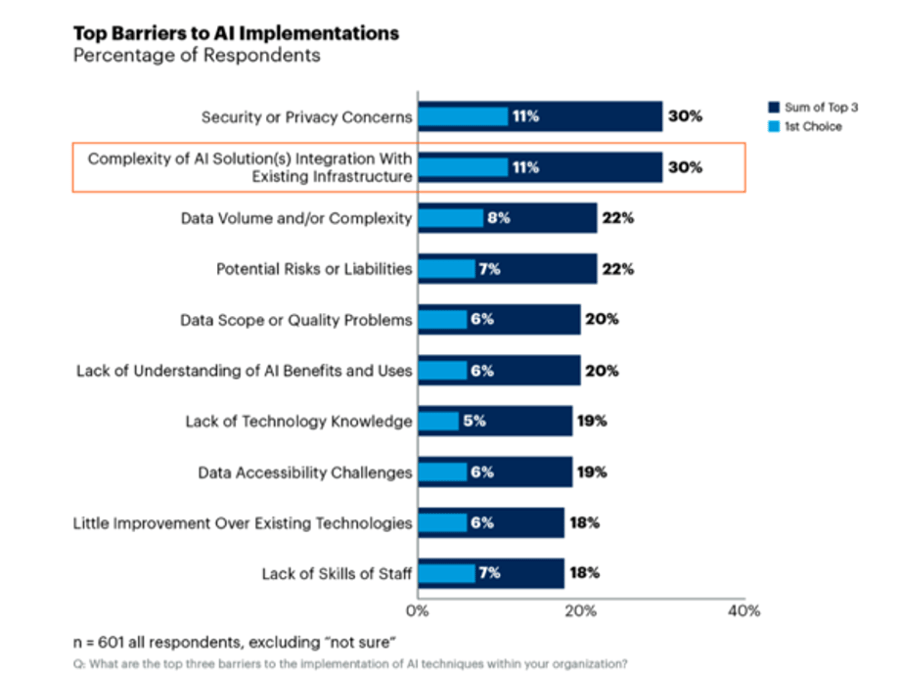 Challenges that we have set out to address with iFusion.ai
Data is everywhere, and its not easy to manage the chaos
Deploying a machine learning model
Constant monitoring in production
Regular retraining when drifts > threshold
Governance throughout the model lifecycle
Filling the gap with iFusion.ai - Businesses
Enterprises and Large companies are looking for a platform to build cost-effective AI and analytics solutions to gain insights into data expeditiously
ISVs need a plug and play platform that would provide the foundational components and expedite the development of AI and analytics solution into their product
Personas to whom iFusion.ai caters
Data Scientists and ML Engineers: In need of a platform that would assist with data wrangling and ML Ops, which are the less enjoyable parts of their work. These users mostly depend on IT staff and data analysts to do these tasks.
Software Engineers: In need of a platform that helps with auto-selection of AI/ML algorithms and building models using one or more algorithms including hyperparameter tuning without user intervention.
Non-technical/Business Users: In need of an automated platform that would integrate machine learning services into an existing process or workflow to make effective insights and recommendations.
iFusion.ai: 2021 and beyond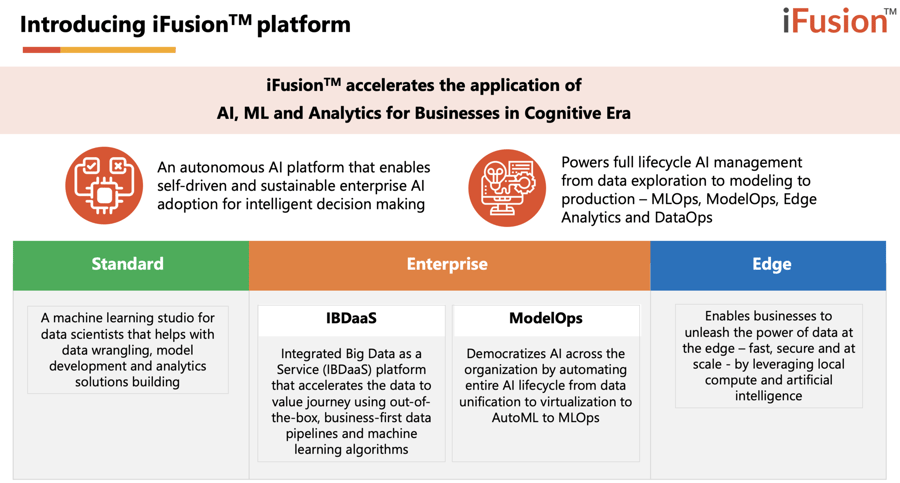 The updated version is a major evolution from the earlier Integrated Big Data as a Service (IBDaaS) platform which accelerated data value with out-of-the-box algorithms and business-first data pipelines but left the identification and model operations, maintenance and governance to data scientists. It had won the 2020 Data Breakthrough Award for the "Data Monitoring Solution of the Year" award.
The MLOps, ModelOps, Edge Analytics and DataOps in the new Enterprise version (Enterprise ModelOps) democratizes AI. This is in line with what Gartner says—"Creating a robust ModelOps framework in tandem with a DataOps framework in an organization reduces the impact of the top barriers to AI implementations".
After production, the platform also continuously monitors the performance of models through data drifts and retrains the models when drifts are greater than the threshold. It uses guardrails to ensure that model predictions are explainable and consistent with human insights.
Apart from the iFusionTM Enterprise – ModelOps, the platform is available in two other editions –the Standard and the Edge platforms. The former is a machine learning studio for data scientists that helps with data wrangling, model development and analytics solutions building. The Edge platform enables businesses to unleash the power of data at the edge – fast, secure and at scale - by leveraging local compute and AI.
Key Features and Benefits
Automated Data Pipelines: iFusion.ai helps organizations establish efficient data management practices by automating the process of collecting data from multiple sources, transforming, and preparing data ready for machine learning workloads. It comes with a federated datastore architecture and a data virtualization layer that provides a transparent, unified view of data irrespective of where it is stored.
Advanced AutoML Capabilities: iFusion.ai increases the productivity of data scientists and also minimizes the need for experts by enabling any developer to build machine learning models in just a few clicks. It provides auto annotation, model selection, hyperparameter finetuning, modularization of networks, model evaluation, summarization and incremental learning through feedback loops.
Production-ready ModelOps Environment: iFusion.ai automatically deploys the models to any environment of your choice, manages the entire lifecycle of production models, and ensures total governance and control of AI. It continuously monitors the performance of models through data drifts, prediction distribution drifts, and business KPI drifts and retrains the models when drifts are greater than the threshold.

iFusion.ai is on the MS-Azure Marketplace:


https://azuremarketplace.microsoft.com/en-us/marketplace/apps/innomindssoftware.ifusion-analytics-v0_1?tab=Overview
iFusion Success Story :
Incorporating Innominds iFusionTM predictive analytics technology into HID SAFE enables safer, more secure workplaces that meet the pandemic's building occupancy mandates
iFusion technology has been fuelling major data and AI-powered projects in global enterprises. For example, it has been integrated into HID SAFE, Facility and Risk Analytics solution of the global identity solutions company, HID Global. The technology enables HID SAFE solution users to predict security events so they can improve the effectiveness, efficiency, and cost of their security operations. Read more about that here :
https://www.businesswire.com/news/home/20201217005320/en/HID-Global-Adds-Risk-and-Occupancy-Analytics-to-HID-SAFE-its-Physical-Identity-and-Access-Management-Solution-for-Today%E2%80%99s-Hybrid-Workplaces
What Next :
iFusion.ai reflects our commitment to furthering the Digital Next innovation agenda of businesses. It fills a deep-felt need in the market as large companies seek a platform to build cost-effective AI and analytics solutions to gain insights faster into data to make real-time decisions on operations or for mission-critical scenarios while ISVs need a plug and play platform that expedites the development of AI and analytics solution into their product. It also meets the needs of data scientists, citizen data scientists, and business users to help realize innovation dreams by building ML models in just a few clicks.
A cool fact about iFusion: Did you know, iFusion has so far managed more than 2.5 petabytes of data
In the next series of blog posts, I would love to share some more insights about the platform, the use cases it has been solving, the customers it has been delighting, and the vision with which we are progressing. If you need a demo of the platform and how it works to enable Autonomous AI for the enterprise, write to marketing@innominds.com and visit www.ifusion.ai