Overview: Innominds recently hosted a dinner series where all the industry leaders from big data joined together to discuss the impact of big data; It's shortcomings and to lay a future roadmap on how product companies should structure their big data solution.
Speaker - Soumya Bhattacharya, EVP Connected Devices, Innominds, San Jose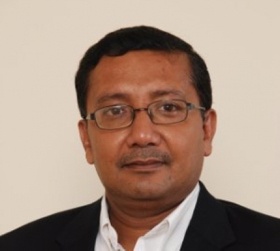 An accomplished P&L leader who has developed large services business like turnaround of product engineering, outsourcing business, sales leadership - recruitment, mentoring and target management, account based growth and customer satisfaction, automotive and industrial automation, medical, Consumer, ISV, telecom, end to end digital experience in IoT, mobility and big data.

Soumya holds a Ph.D. in Robotics and Automation. He also has a Master of Technology from the Indian Institute of Technology (IIT) Kanpur and a Bachelor of Science in Mechanical Engineering from Jadavpur University. In addition to this, Soumya is also a Monbusho fellow from Tohoku University, Japan.
Soumya Bhattacharya spoke about the challenges of architecting/developing platforms and solutions in an era of connected devices. He recalled his experience of the last 20 years, working in different areas starting from robotics, medical devices, automation etc. He said that, unlike thinking about the market and its effects as is the case now, he and his team were given a problem or a task to solve , a practice that continues till date with Innominds.
On the challenges he faced at an implementation level, he said that earlier it was a standalone, embedded device running independently whereas now they deal with connected devices. This has further moved on to Cloud and AI. He said that, if we want to conceive a whole solution for a customer within a short period of time, it is important to have a collection of experts working together rather than one or two persons. He felt, quite often people missed the fact that most of the embedded systems are hard real time systems. The architectural patterns for such devices are loosely coupled in such a way that they can flow in a synchronised manner whereas enterprise systems are designed to work in a slightly different fashion. He said this is one of the primary challenges of building platforms and solutions now. He cited an example where he had to connect an asset tracking system with a legacy ERP system.
He concluded his talk by emphasising that while we try to build a solution, having a team with exposure to multiple technologies and diverse knowledge about the market will help immensely. This, he said is the need of the hour for us to tackle the challenges we face with the advent connected and IoTised products.