Inclusion in the workplace is a significant goal for many organizations. It can, however, be a difficult one to achieve. Many times we hear about something called unconscious bias, a bias that we are unaware of, and which happens outside of our control. It is a bias that happens automatically and is triggered by our brain making quick judgments and assessments of people and situations, influenced by our background, cultural environment and personal experiences.
Yes, biases exist everywhere, not just in our professional work. How do we tackle and beat biases? It is up to each person to beat them with confidence and commitment, together with clear objectives and goals.
Let's take a deep dive into the topic of gender bias in the workplace.
Women are known for their ability to multi-task, balance, nurture and stay focused on tasks, all prerequisites for success of strong and solid leaders. No company or institution ignores if women team members aspire to take on a senior-level position, so long as she shows the commitment and dedication to getting the job done.
Let's consider the example of Neeti Sastra that describes the six noble virtues of women in one single role as a wife. It points out that playing multiple roles in life, women undoubtedly possess all the qualities that are needed for a leader.
It's not a secret that competition for a seat at the Executive Table, or C-Suite, in business is a tough to reach - for men OR women. That said, it is important for Indian women to strive to reach middle and senior management positions and apply for them with confidence and committment. And always have clear objectives and goals in sight. Never give up and always keep a positive approach, as the next stage of growth falls into place if you do.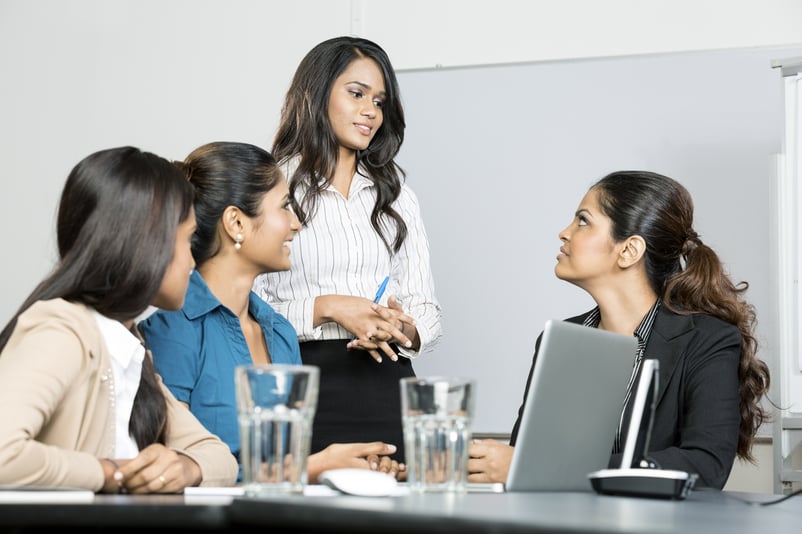 Corporations and businesses of all sizes have been focused on providing biological breaks (example after the birth or adoption of a child), creating conditions for women to stay in their profession and return to work when ready. A good support system is key, and this includes a circle of both men and women around her supporting and encouraging her to return to her career.
It's also important to have a role model to provide career direction for success. There are several role models for women in India, such as Chief Ministers, Parliamentarians, Speakers at the Legislature, executives and heads of banks and financial institutions. These role models give sufficient confidence and inspiration to women to step forward.
At Innominds, we encourage all to live and work with confidence and committment.
In fact, our Core Values form the foundation of who we are, what we believe in and what we strive to be. They define our culture, shape our future and cultivate our success. Take a look at the Innominds Core Values here.