Can technology help elderly citizens to live independently longer?
The number of elderly citizens coming to care homes in response to the COVID-19 epidemic has exacerbated the social isolation and loneliness experienced by many elderly and vulnerable people, increasing their risk of serious health issues. This trend, combined with societal shifts such as lower intergenerational living, greater geographic mobility, and fewer connected communities, has put the elderly at risk of isolation and, as a result, danger.
Fortunately, technology can assist caretakers, healthcare professionals, and family members in detecting and alerting elderly folks' changes in behavior, which can help prevent significant issues.
Why IoT enabled health monitoring systems for elderly patients?
Medical developments in public health have benefited medical field practitioners and specialists, as well as millions of individuals around the world. However, technology-driven medical innovations are yet to be fully utilized by the general public.
Because most industrialized countries have a higher number of senior citizens, there is a strong need to use technology to meet the expanding healthcare demands of the elderly. Affordable, controllable, minimally intrusive, and simple-to-use healthcare solutions are critical.
The introduction of IoT-based systems to connect virtual and physical things has the potential to fulfill the requirements of elderly patients who need constant monitoring.
Typically, the IoT solutions for the care of elder citizens revolve around health monitoring systems, home security monitoring, and interaction with the caretakers. Elderly patients are usually dependent on smart devices such as oximeters, pill dispensers, glucose meters as well as smartphones health apps, and wearables.
As per the U.S Census Bureau, by 2030 elderly citizens are expected to outnumber the children population in the U.S, which means about 19% of the total population of the U.S will consist of elderly people. The increasing percentage of senior citizens demands better, faster, and cost-effective healthcare systems to cater to every individual appropriately.
IoT can transform into an effective and advanced system beyond smartphones and computers. One of the significant advancements is in the usage of Telemedicine services which are beneficial especially for senior citizens. Moreover, with the rise of the ongoing Covid-19 pandemic, the usage of smartphones for Telemedicine became a necessity rather than a luxury. This has resulted in a positive impact as a recent health survey showed that about 60% of the U.S population who are above 65 years of age are now open to using Telehealth services.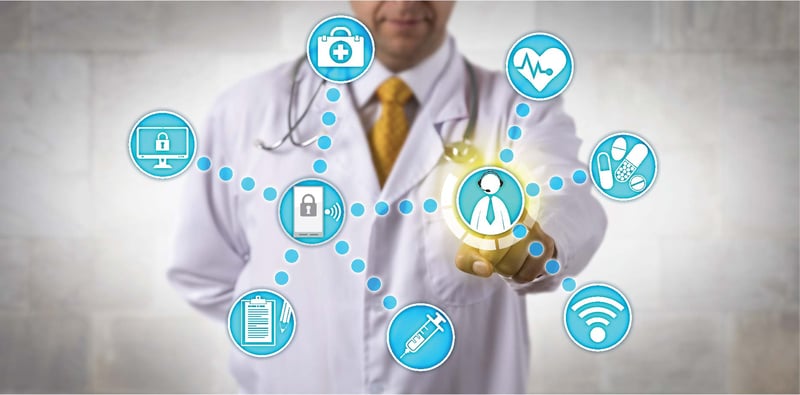 Innominds IoT Remote Health Monitoring System for a Global Client
One of the worldwide leaders of the IT and networking field associated with Innominds to develop a system using IoT Gateways to monitor elder people in real-time and provide timely alerts to the caretakers in case of an anomaly. They wanted to build a system that was non-invasive, non-contact, and more importantly low cost.
The global leader develops, manufactures, and sells networking hardware, high-tech services, and telecommunication equipment. The new Aging in Place platform uses Aoetec Z-stick as an Open Z wave dongle to configure a Linux-based machine as a gateway. By leveraging Innominds' advanced connected devices services, they were able to monitor living patterns to track normal activity patterns, monitor overall health based on the patterns as well as anomalies, and send notifications to the caregivers whenever the rule is triggered.
Benefits derived by the client from Innominds' remote monitoring system:
• Increase in efficiency: Caretakers were not required to be at home with the patients because of which resources were better allocated for other tasks.
• Regulating capacity: Depending on the individual requirements and problems of each patient, caretakers could set their own personalized rules and alerts on the system for enhanced service.
• Non-Intrusive: Senior citizens are more prone to stigmatization and hence a non-invasive and non-intrusive system is a better option for such clients.
IoT-enabled remote monitoring system which uses Big Data and Analytics to improve its performance constantly is helpful in the quicker diagnosis of any health issues and hence decreases healthcare expenses for both hospitals in terms of system costs and patients in terms of actual visits to hospitals. The overall system leverages IoT to provide better access to healthcare in remote areas and reduce manual errors. Hence, smart monitoring systems developed by applying IoT are a big step towards building preventative healthcare services for the betterment of society.
Download this case study to learn how the monitoring application enhanced the patient's healthcare journey and improved the care quality.