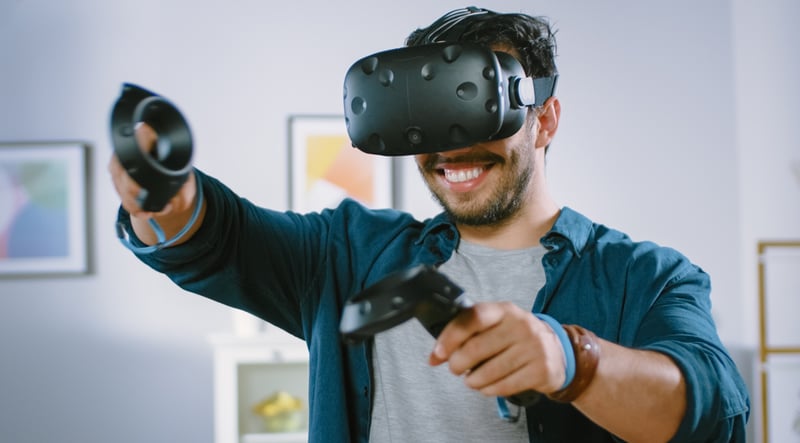 Who doesn't love gaming? Especially since Virtual Reality (VR) has truly taken the user experience to the next level with its immersive experience in the gaming action.
Developing a great seamless immersive experience requires rigorous Quality Assurance and Testing services. After all, even the tiniest bug that hangs the game for even a couple of seconds could mean a bad experience for the user. QA testing is also important for a successful product release.
QA testing could also help create compelling immersive AR/VR solutions for remote work in manufacturing and healthcare sectors.
The VR Market is Set to Grow Exponentially
The Virtual Reality market is expected to grow to USD 44.7 billion by 2024 from USD 7.9 billion in 2018, at a Compound Annual Growth Rate (CAGR) of 33.5%.
This huge market growth can be attributed to the growing demand for head-mounted displays (HMDs) in the gaming and entertainment industry, and implementation of VR as part of the overall marketing strategy of consumer companies to provide an unparalleled immersive experience for users. Gaming has picked up momentum as people are increasingly engaging with various gaming sites to escape the tedium of being under lockdown during the COVID-19 pandemic.
However, the growth and usage are not just limited to the entertainment industry. A few companies are building prototypes that facilitate remote work using Mixed Reality which is a blend of both Augmented Reality (AR) and VR.
In addition, businesses worldwide are starting to explore how VR can help create a more attractive, immersive product experience for their customers. With this exploration comes unseen challenges involving plenty of innovative development and lots of QA testing work.
Innominds' QA and testing teams help provide a greater immersive experience for VR gaming platform users.
Innominds' QA and Testing teams have been instrumental in helping many global industry leaders offer a seamless VR/AR-powered immersive experience to their customers resulting in increased active user engagement. For instance, we provided an enriched, immersive gaming experience for a leading consumer electronics and entertainment company which is also one of the world's leading VR platforms providing VR video content and VR gaming experience to millions of users.
Our QA and Testing services served the 'Quality gateway' role ensuring the gaming product released was bug-free and market-ready. We provided active user engagement for our client's flagship product.
We achieved these results by following a thorough quality process that involved certifying the usability and performance testing of the gaming content (product) across multiple platform combinations.
We have an in-house state-of-the-art lab in a DevOps setting that enables us to benchmark performance, perform functional, and test automation which has reusable test components for faster test delivery and comprehensive test coverage. We can also perform platform compatibility testing and ensure application certification for these products before market release. In other words, we made the VR application compatible with various operating systems versions and software/hardware, etc.
Our quality deliverables enabled greater client satisfaction resulting in a long and fruitful association with our client. Recently they entrusted us with a mammoth platform certification exercise encompassing 200+ video gaming content across 40+ platform combinations for the release of their key future content/product. We believe that this project reflects their growing level of trust and confidence in our QA and Testing teams.
The genesis of this story was in 2019 when our client launched their VR gaming platform offering paid subscription service for users. The launch caused a huge disruption in the gaming space as it helped the users access titles at an affordable price. Our client, often called the Netflix of VR content, has witnessed significant growth in its customer base. As a result, our client needed to build a more robust and scalable platform to accommodate the growing number of customers and to provide a greater immersive gaming experience.
In the due course of the solution fulfillment process and after evaluating various e-commerce platforms available in the market, the team chose Magento (e-commerce), an opensource platform that scores high on performance, scalability, and security.
The client's application witnessed a major revamp when using Magento which ensured a rich GUI and seamless user experience to its end users. Magento also offers multi-language and multi-currency support which makes any third-party integrations especially the payment gateways a lot easier.
With the client undertaking such a critical migration, our Quality Engineering team had a bigger role to play. It was essential to test each feature from an end-user perspective and even a single pixel deviation couldn't be missed out while testing. Hence, the strategy was outlined to ensure exhaustive, effective test coverage involving numerous platform matrix combinations.
As part of this migration, the key features in the shopping cart process involved a two-step verification. The user enrollment was designed in a user-friendly manner with the QA team testing and validating from an end-user perspective. We acted as a 'quality gateway' at each milestone of the content release and all the deviations were diligently discussed in the defect triages and at the product review meetings. As I write this article, more than a million users would have experienced this 'new' version downloading and playing it from the app store.
In the due course of this whole journey, Innominds contribution was not just limited to the Quality Engineering engagement, we have extensively contributed and co-worked with the client's core engineering team and supported them in areas like Mac client Development, Mobility (iOS & Android dev) UX Design and more.
As our client is an innovative pioneer in the gaming space, I am sure they will come up with more world-class features. Innominds is all geared up for the challenge of validating them and continue to be part of the historic evolution of gaming.
Gaming and remote work have something in common: Mixed Reality (AR & VR)
Most of the immersive experiences provided now are not just limited to the gaming or entertainment industry. We are witnessing its increased usage in healthcare, and manufacturing sector as well. Innominds has been at the forefront in providing its remote-first solutions to businesses worldwide. With the rise in remote working companies, we help support businesses in providing Mixed Reality solutions which enables for a great employee experience that are working remotely.
Conclusion
VR is a very exciting space and it is evolving into wider usage across industries and functions. But when reproducing experiential reality, some things may not work just as planned. This is where testing and quality checks for VR products is critical to the adoption and success of VR.
Testing can pose tough new challenges to even the most experienced teams. Not just that, the testing teams will have to re-think the use cases and the test scope making test planning and assuring high quality product release. It shouldn't be surprising even if it takes some time before your testing and quality teams learn their limits and have a good idea of their velocity and speed of service delivery to create the ultimate VR gaming experience for the users.
Innominds Quality Engineering and Testing Services play a pivotal role in taking the VR gaming experience to the next level by providing increased, active user engagement to VR gaming platform users.
Apart for working with the gaming industry, we are using our all-round solution expertise in product engineering, QA, testing, test automation, embedded and chip engineering, platform integration, security, and emerging technologies to explore better ways to empower businesses especially AR/VR/MR companies that are looking to provide a seamless immersive experience to remote working companies.