In the current business environment, all companies are thriving to go digital. All departments and functions of organizations are being digitalized to reduce dependency on physical infrastructure. Organizations can accomplish their business goals and objectives by including Cloud technologies in their process. In this context, Robotic Bots can save time and have cost benefits. Software robots, commonly referred as Bots, are small programs that work as an agent for a user and simulate human activity. Bots have the capability to perform repetitive and mundane jobs, which, in turn, helps humans to focus on higher value tasks that require human intelligence and critical thinking. They can be trained to recognize emotions and respond accordingly. For example, Bots can identify words that indicate frustration or anger and intelligently hand over support calls to human agents. Customer support and technical service are the most popular areas where Bots are employed to support internal and external customers.
Robotic Process Automation (RPA) and Artificial Intelligence (AI) are the current wave of technologies that companies are embracing with the goals of eliminating human error, increasing system efficiency and improving human productivity.
Enterprises have implemented all kinds of software across the organization to automate business processes. Large organizations have installed numerous types of software to automate many tasks such as ERP, CRM, HRM, Financials, ITSM, Supply Chain, Logistics, etc. Even after using numerous software, there are several tasks that are required to be done manually. These manual and repetitive tasks are hindrances to employee productivity and customer service.
Some of the daily tasks such as sending emails, performing data entry, updating systems of record, and fetching files are performed by business process experts who have familiarity in using the tools. Repetitive tasks consume at least 50% of employee's time.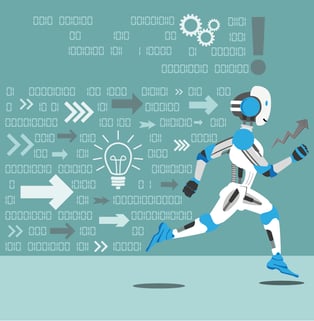 The benefit with robots is that they are available 24x7 both in supervised and unsupervised mode and can be programmed to work across systems and workflows. For example, if you need to send an email, you can just talk to the Bot and it will type the text using speech-to-text tool. Subsequently, it will automatically send an email. Similarly, you can command robots to update your applications of record, such as creating a ticket in your technical support software, order a pizza from your food app or book cabs, etc. The Bots are configured for authorization and authentication mechanisms to operate the software and are trained to perform tasks for you. Many companies have evangelized RPA and implemented thousand Bots performing various task that saves great amount of human efforts.
Technologies such as AI, Machine Learning (ML), and Natural Language Processing makes it possible for robots to understand what you say or type. Computer vision, voice recognition technology, speech to text and text to speech tools, all make it possible for machines to understand what humans are saying in natural language. In short, robots can be trained to understand languages, interpret commands spoken in natural languages, process that information and respond back in text and voice after completing the task.
If the Bot is stuck with some step in the task, it communicates with the humans to get the correct information to complete the task. With controlled and unsupervised learning methods that are used to train Bots, they are getting better and good learners with time as they practice the tasks daily.
Bots can be created for specific purposes or for generic functions. Every department, function and even employees can have their own Bots performing select tasks. Bots can communicate with each other to complete flows and tasks that need interaction with multiple systems and humans. An orchestrator is used to control multiple Bots functioning within a specific ecosystem.
For an organization to manage Bots, a centralized system needs to be in place to create, store and manage them. RPA software is specially designed to help employees create Bots (even without technical knowledge), train them and manage, control and analyze their activities. Some organizations manage thousands of Bots and hence enterprises need a common platform on which one can create and orchestrate Bots and their activities.
RPA Bots can operate Graphical User Interfaces, fetch data by making API calls and perform integrated operations between systems. Bots are programmed to run in various channels. Since messaging is the most popular application for communication, Bots are most often used across messengers to perform tasks such as banking, booking, travel, etc. Bots can also be implemented in emails, IVRs, live chat systems, social and enterprise messengers, mobile and web apps among others.
Since Bots have access to data, security becomes a critical requirement. The RPA platform manages the authorization and authentication rules. One can enable or disable Bots from performing certain tasks or prevent them from talking to some systems.
The RPA platform helps in analyzing Bots activities, number of Bots deployed, how many are active, what activities were performed, when they were performed, etc. Comprehensive log is maintained to prevent any security breach and to analyze the efficiency and training requirement of Bots.
About Innominds
Innominds, official partners of UiPath, Another Monday and Automation Anywhere, with nearly two decades of experience in Enterprise Application Automation with Certified RPA professions and deep domain experience in various industry verticals, offers comprehensive solutions for an organization's digital workforce transformation by using Artificial Intelligence, Machine Learning and Natural Language Processing. We have a strong team, robust framework, reusable components and processes in place to help strategize, design and implement process automation across entire enterprise.
Interested! For any demos or POCs, please write to us at marketing@innominds.com and know more about our offerings.