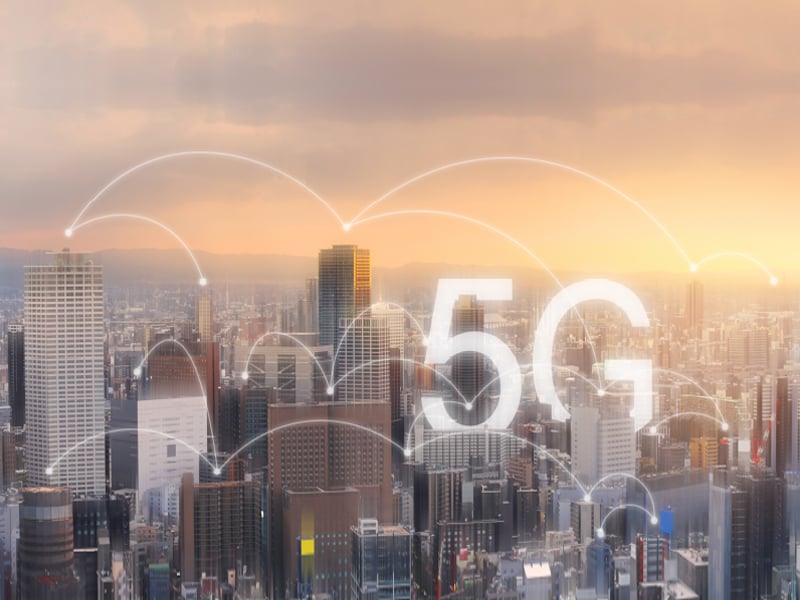 '5G service will cover 40% of the world's population by 2024' - Ericsson
Instant digital accessibility fuelled by hyper-speed internet is what the world needs to stay connected and be better engaged. 5G is the technology that will make that connectedness possible.
The Power of 5G
5G is the next generation of wireless technology that will enable mobile networks to perform at a high-speed, almost 10 times faster than 4G LTE, interconnecting people, controlling machines, objects and smart devices like never before.
With its ultra-low latency level, greater reliability, and massive network capacity, 5G helps deliver higher performance, efficiency, and new user experiences. Industry experts expect strategic partnerships and collaborations will prove crucial to the future of 5G and in developing viable 5G use cases that provide a seamless, new connected experience for global users.
5G technology is the springboard to the next wave of connectivity. Growing at a mammoth scale, 5G is likely to disrupt industries--including retail, transportation, entertainment, automotive, gaming, education, smart cities and everything in between.
According to Gartner, 5G devices will account for 12% of mobile phone shipments in 2020, and they will make up 43% of device shipments in 2022. Gartner also predicts that the 5G phones will fully account for half of all mobile phone shipments in 2023, as prices decline and 5G service availability expands.
Recently, Cradlepoint collaborated with Innominds on gigabit LTE and 5G wireless solutions for smart cities with Qualcomm technologies enabled solutions. The collaboration aims to bring leading-edge devices, application and analytics expertise together, which is required to power the future smart cities.
'Approximately 1.01 Billion 5G connections will exist in 2023'

- IDC
Recently, a consumer survey in the UK and USA conducted by Global Web Index unveiled some interesting facts and statistics relating to the adoption, perception, and obstacles pertaining to 5G. Here are some excerpts and findings:
1. Increased Awareness and Demand for 5G
The UK and USA are at the forefront of the 5G revolution – 83% of Internet users understand 5G and its capabilities in a true sense. As the 5G powered smartphone experience is new for these segment customers, it becomes a testing ground providing us with insights and information.
Extensive advertising has raised consumer expectations making 5G a crucial component in a smartphone and a key selling point for mobile service providers.
However, despite the excitement around 5G, only 27% of consumers in the UK and 45% in the U.S feel that 5G is a crucially important feature to have on their smart phones. Consumers still consider battery life and storage as far more desirable than 5G. The demand for 5G also varies by country and even gender.
For example, there are differences like, one in two 5G-aware males regard 5G as a key functionality, compared to only 1 in 3 females.
2. 5G Advertising – Diverse Customer Responses
The demand or aspiration for 5G also depends on the consumer's perception of 5G, and their stage of technology adoption.
For example, early adopters, those who say they own a 5G-enabled smartphone, are most likely to get excited by the coverage in difficult-to-reach locations.
While, the early majority, those who are ready to trade their current smartphone for one with 5G as and when it is available or when it becomes more affordable, are unlikely to be impacted by download speeds in comparison to 4G.
The late majority (this segment will assess the benefits of 5G with caution and see if others find 5G phones useful) are generally unsure of what they're most excited about.
But the early and late majority are more likely to get excited about 5G outpacing their regular broadband networks (speeds). While early adopters who already own 5G phones are relatively less excited about this.
As 5G coverage has not yet come to full fruition, any inconsistent, intermittent or unreliable coverage might make household internet users think differently about 5G, at least for now!
3. Upsurge in Prices Surrounding 5G Will Be a Concern
The potential increase in smartphone costs due to 5G (41%) is by far the topmost concern among 5G-aware consumers in the UK and USA, particularly for women (45%), Gen Z (46%) and late majority adopters (46%).
The potential rise in smartphone costs, privacy concerns, radiation, and people becoming overly inclined and attached to their smartphones/devices stood out as a major cause of concern for users.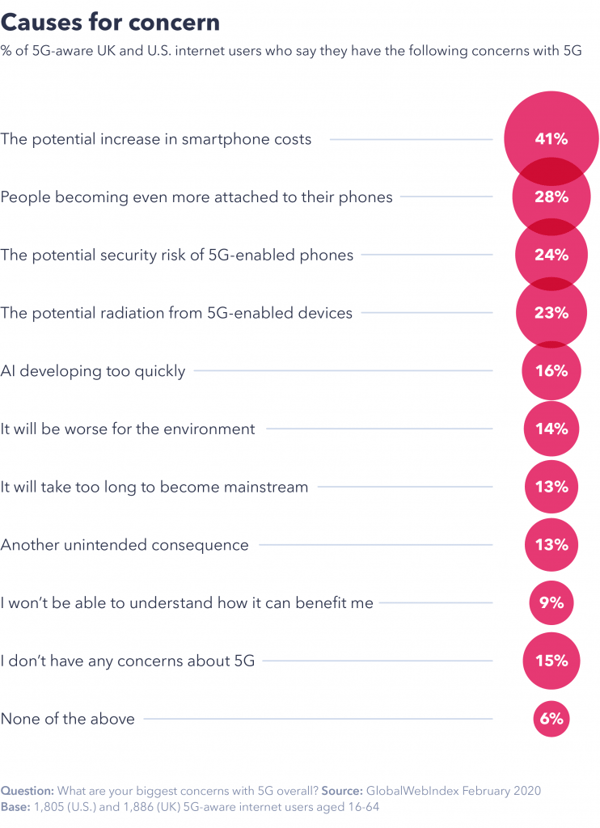 (Image source: GlobalWebIndex.com)
But how do these concerns arise?
The fact that the price of top phone brands has been on an upward trajectory over the years and never plateaued has given rise to the 'sticker-shock' phenomenon—the shock felt by a potential buyer when the actual cost of the mobile is revealed. It can be further broken down, and disguised under the glossy monthly fees.
In 2016, Samsung charged $670 for a brand new Galaxy 7, whereas in 2020, Galaxy S10 was priced at $900. Up until very recently, the retail price of a new Samsung Galaxy Note10+ 5G from Verizon Wireless stood at $1,099.99. So, early adoption does not come cheap.
With expensive smartphones already owned by consumers for over a longer time, it is now harder than ever to convince them for an upgrade.
Moreover, 5G development is expensive and unlikely to get cheaper at any point soon. In their 2025 Capex forecasts, GSMA Intelligence predicts that operators will spend over $1.3 trillion over the next seven years with the bulk of it allocated to 5G. Because it's highly unlikely that there'll be a single app for 5G, it can only mean that the operators will have to adopt and pursue an individual approach to raise their revenue generation. Modularity and scalability should be the standard base on which 5G networks will have to be built, which in due course of time will result in increased costs.
How 5G will unleash AI-based Business Models
5G will play an important role in how future networks become segmented, supporting multiple use cases of AI.
"AI is a huge priority. We are seeing a transformation happening, with AI going from the cloud to being distributed, such as on the edge or on IoT devices." - VP of Engineering & Head of 5G R&D for Qualcomm. The company has been embedding AI capabilities on its chip.
The possibilities with 5G and AI are exciting. The use cases include - 'Digital-human' technology where realistic human representations interact with you in real-time. We have 5G mobile device solutions which quickly generate and communicate alerts to firefighters and law enforcement officers addressing potential life-threatening situations before they escalate.
Having 5G enabled home surveillance systems will enable multiple video streams to be uploaded to the cloud for storage and processing, without overly taxing a home broadband link and be independent of access point coverage.
Or imagine a camera that can interpret what it is seeing in real-time and decide what actions to take based on the images it sees - all made possible by smart AI-based devices that operate at the Edge.
In Automated IoT (AIoT) we have AI-powered voice assistants which might provide you an instantaneous weather report when prompted.
So, the ability to process data in near real-time on 5G networks will open up many new AI-powered possibilities across many industries.
5G and the Vendor Wars
5G is set to become a multi-billion dollar industry for infrastructure. Looking to capitalize, Cloud computing providers are rushing to the market with offerings to help service providers in their digital transformation and 5G efforts. Very recently, both Google Cloud and Microsoft's Azure division made big announcements in the telecom space.
In a bid to strengthen its edge computing competency for 5G, Microsoft acquired Affirmed Networks (which has a global presence in over 76 countries) to modernize telecom's IT infrastructure and deliver new cutting-edge services. The acquisition gives telecom operators a good reason to partner with Microsoft for their hybrid environments.
In early March of 2020, Google Cloud announced Anthos for Telco. Anthos for Telco provides a highly scalable and globally distributed version of Anthos that allows service providers to run workloads in any environment including the telco and customer edge. Google Cloud also shared that it was collaborating with AT&T as part of a strategic alliance. Together they are developing 5G solutions for industries like retail, manufacturing, and transportation using AT&T's 5G. The wild card in all of this is Amazon's AWS.
With the growing enterprise cloud computing market, it's becoming increasingly difficult for any cloud computing provider to take the pole position.
With Microsoft and Google entering the space in a meaningful way, telecom operators will play the field and partner with more than one cloud provider and it is expected that cloud providers will resort to acquisitions to bolster their edge computing offerings.
Overall, 5G will significantly impact every other area where wireless transmission is inevitable.
At Innominds, we are well poised to unlock the true potential of 5G leveraging our collaborations with Cradlepoint and Qualcomm on 5G and our core Connected Devices & IoT solutions, Product Engineering and comprehensive Devices, Apps & Analytics expertise, which has helped global clients provide their customers with a fast, secure, and seamless user experience. For example, Innominds recently teamed up with TotalTrax Inc. to be part of the Qualcomm Smart Cities Accelerator Program. TotalTrax, a leading provider of real-time vehicle, driver, and inventory tracking technologies for manufacturing and warehouse operations, will collaborate with Innominds to apply QualcommTechnologies' mobile and wireless solutions with 5G and IoT for Smart Warehouses.
By leveraging 5G, we aim to help businesses become future-ready. Our solutions have helped top global companies stay ahead of the digital curve. The areas include– IoT, IIoT, smart homes, infotainment, entertainment & media, logistics & shipping, smart devices, smart farming, fleet management, health and mission-critical apps, autonomous driving, security and surveillance, drones, AR/VR, smart cities and more.
Reference: 5G Opportunity: Consumer Trends Report