Reimagine the E-commerce Customer Experience Leveraging Generative AI and Vector Search on Your Private Cloud
Ravi Meduri & Nidhi Bhatnagar | Innominds & DataStax
Learn More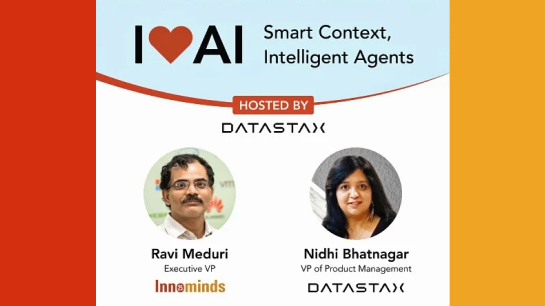 Partnership with DataStax
Innominds is an engineering partner of DataStax to support enterprises in their modernization journey towards building real time scalable applications and AI workloads including Generative AI powered applications. Innominds brings its expertise on the internals of scalable distributed databases, real time and streaming data management, real time AI and APIs to transform enterprise applications through DataStax technologies.
Partnership Highlights
Innominds' 360 degree partnership with DataStax spans product engineering, professional services, value-added reseller and accelerators that enable better adoption of DataStax technologies. For enterprises this means achieving scalable architectures with world class Service level objectives and a guaranteed Total Cost of Ownership advantage.
Innominds offers full lifecycle services on DataStax including design and architecting, health checks, installation and setup of production and non-production clusters, performance tuning and optimization, observability, data modelling, migrations and upgrades, and developing APIs and analytics
Innominds & DataStax have created a framework for real time applications and a reference architecture for how enterprise applications can be architected for high throughputs with real time event processing, real time AI including vector search for Neo-banks and Fintech companies. Similar architectures and frameworks have been developed for Telcos for AI Ops and running Network Command Centers
A reference technology stack for a Fintech/Neo-bank
A Large US Based Bank
Supporting a large US bank in migrating an acquired bank's applications and data into core a Cassandra data platform.
A Large US Based Energy Company
Migrating a large US energy provider from Cassandra to Astra using the Zero Downtime Migration approach.
An Australia Based Web 3.0 Network
Rearchitecting and scaling an Australia-based Web 3.0 social network to support their high growth in customer acquisition and usage by designing the migration from MySQL to Astra.
IP
&

Accelerators

Innominds builds accelerators so enterprises can leverage the real-time AI-powered applications that can be built on the DataStax stack, including among others DSE, Astra, Astra Streaming and Luna Streaming. Some examples of our accelerators are:
Migrations from RDBMS or other NoSQL to DSE/ Astra
OTel/ OTLP connector for Observability
Health check and diagnostic tools and automation
Innominds is the global preferred partner for Enterprises to design, execute and manage their high throughput and real time applications running on DataStax. Innominds expertise in scalable distributed databases, enterprise grade implementations, reference architectures and accelerators make it a unique provider that can deliver the modernization & transformation journeys of Enterprise