Zinnov has recognized us as a niche and emerging player of outsourced software product development in their Zinnov's Global R&D Service Provider Ratings (GSPR).
The GSPR 2015 is an extensive annual study on the capabilities of R&D and Product Engineering Service providers, and is designed to assist companies in their selection of outsourcing partners from across the world. This recognition reaffirms Innominds' focus on offering innovative solutions to companies by utilizing disruptive technologies such as Big Data Analytics, Connected Devices and competencies such as Design Thinking and UI Engineering.

"Zinnov's recognition of Innominds reiterates our strong position amongst global players and puts the spotlight on our ability to focus on disruptive technologies and brings innovation to our customers. This honor is a testament to the excellence of our employees, who innovate and create tremendous value to our customers," said Mr. Divakar Tantravahi, Chief Executive Officer, Innominds Software Inc.
"Innominds emerged as a capable and focused player in the Zinnov GSPR 2015- Product Engineering Services. Their deep product engineering legacy, capabilities across the entire product stack and a highly skilled and experienced engineering talent pool positions them as a unique, yet highly capable engineering services provider. They have acquired a diversified experience by working with both industry leaders and new-age startups that have helped them stay ahead of the technology curve and meet customer expectations. Innominds' flexibility in meeting customers' demands and ahead-of-the-curve investments in new-age skills positions them well as a partner to R&D spenders seeking a strategic technology outsourcing partner," said Mr. Sidhant Rastogi, Partner & Practice Head, Zinnov.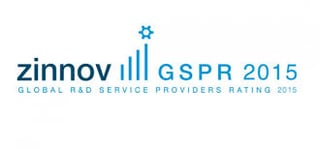 Innominds is placed in the "Execution Zone" in Enterprise software, consumer software, semiconductor, energy & utilities and Industrial automation for their capability to deliver complete product development, on par with the largest and well-known outsourcing companies in the world. As a "true and specialized engineering partner" for large & niche independent software vendors (ISVs) and global companies, Innominds is recognized by Zinnov. Several global customers have expanded their market reach with the help of Innominds' portfolio of complementary products, UX and UI frameworks, solutions, systems integration and commercialization support. Innominds has built re-usable component IPs in hardware and software with the potential of providing quantified benefits to the customers.
To find out more about Innominds and our innovative approaches, please contact us today.