We are proud to announce that we have been recognized as one of the Top 50 Best Companies to Work For in India. This is the third time we have received this honor by Great Place to Work®.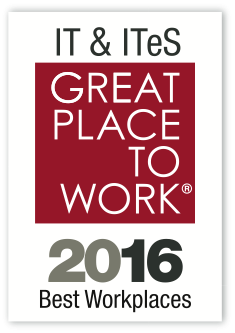 "Being recognized as 'India's Best Companies to Work For' is indeed a proud moment for us. The honor is an enormous testament to the exceptional people here at Innominds who drive innovation and help us to retain our leadership status in the industry," says Divakar Tantravahi, Chairman and Chief Executive Officer, Innominds Software Inc.
Great Place to Work® conducts global survey every year across industries on workplace culture and best people practices and provides ranking based on employee feedback and culture audit at each of the participating companies.
"Innominds thrives on the excellence of employees and the high-quality output they deliver. And this has been helping keep the company at the forefront of technology. The high-performance culture at Innominds encourages employees to prosper and progress while maintaining a clear focus on our customers' success," Anil Katakam, Chief Operating Officer, Innominds Software Inc. says.
"The recognition from Great Place to Work® Institute speaks of our commitment at Innominds in building an outstanding work environment for our team members as they drive success for our customers," says Lakshmi Achanta, Chief People Officer of Innominds Software Inc. "Over the years, working with a remarkable team, we have been successful in nurturing a great workplace culture which values every individual, honors integrity and encourages accountability."
As we celebrate this great award today, we look forward to creating an even better environment with our Team so we can try to be recognized again in 2017. To read more about the Innominds Core Values, please visit here.