Mumbai, India, February 18, 2018: Lakshmi Achanta, Chief People Officer of Innominds, has been awarded 'Women Business Leader of the Year' at the World HRD Congress, which took place between 15 – 17 February 2018 at the Taj Lands End, Mumbai.
The World HRD Congress is one of the top industry associations for HR leaders that has brought over 2000 HR professionals including, industry's best thought leaders, strategic decision makers and peers from 133 countries on one platform. It aims to serve as the best networking platform to share insights on the best global HR practices.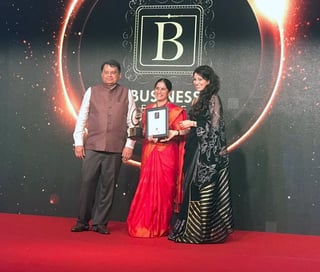 Upon receiving this award, Lakshmi said, "I am truly delighted. It motivates us to do better. This award reinforces our belief and it shares Innominds' philosophy that an organization's work culture should be more employee-centric."
Lakshmi has been lauded for her strong empathetic leadership skills. She has been at the forefront of creating and developing an ideal work culture that has resulted in an effective - employee empowerment and retention of a high-performing diverse workforce.
Lakshmi is considered to be a unique human-centric HR leader who has been promoting the culture of 'succeeding together'. She has been spearheading her efforts in nurturing a feeling of 'oneness' by creating self-belief among the employees.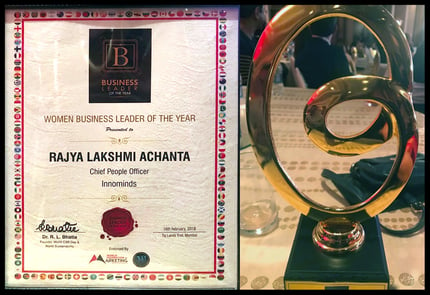 Talking about leadership style, she responded, "It's not always about rank, power and privilege because we understand that true leadership is about listening keenly, being sensitive to the employees' needs and the willingness to place others' needs above your own."
"We believe in creating a sense of self-belief in our employees to achieve things they didn't think was possible. We focus on prioritizing the well-being of our employees as we know that happy employees are the best brand ambassadors of an organization," she added.
Lakshmi laid stress on the importance of bringing emotional intelligence to the workplace, imparting the skills of empathic dialogue and its application in building employee trust, resolving conflict, counseling, coaching and mentoring.
About Innominds Software Inc.
Innominds is a trusted innovation acceleration partner focused on designing, developing and delivering technology solution in specialized practices in Big Data & Analytics, Connected Devices, and Security, helping enterprises with their digital transformation initiatives. We build these digital practices on top of our foundational services of UX/UI, application development and testing for technology companies. From ideas to commercialization, Innominds provides great ideas, engineering talent and proven technology solutions that help our clients succeed in today's highly competitive market. For more information, please visit www.innominds.com