San Jose, California, March 17, 2018: We are thrilled and delighted to announce that Innominds has been listed in 'Cloud Top 10 Hybrid Integration Solution Providers' by the Cloud Technology Insights magazine and a detailed story on Innominds' Accelerators has been featured in the Cloud Technology Insights' cover story.
Innominds is evaluated and lauded for its efforts and cutting-edge accelerators – Harmony, Enigma and iFusion - all playing a pivotal role as strong enablers in assisting the clients in their complete digital transformation.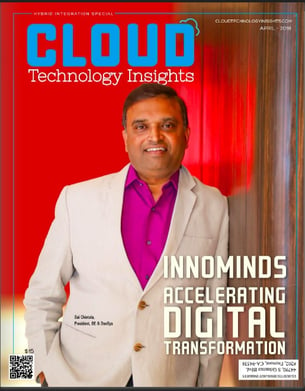 Emphasizing the quintessential differentiation factor that Innominds brings to the table, Sai Chintala, President - Quality Engineering & DevOps, Innominds said, "Innominds services have 'automation' at their core, backed by strong technical expertise and accelerators that are best designed to give our clients an edge over the competition. Delivery, deployment and time-to-market are all accelerated through smart automation and the accelerators that we have built are customized before being rolled out to our clients."
Innominds, with its strong expertise in technology, years of experience in test automation and a focused customer-centric approach, was featured as one of the leaders in the field of innovation. Furthermore, Innominds has been continuously investing in innovation and agile systems, strengthening and cementing its accelerators and smart automation platforms, resulting in a greater client satisfaction.
Speaking on the competitive advantage that Innominds provides for its clients, Navdeep Singh, Innominds Vice President for Cloud & Product Engineering said, "With headquarters in the heart of Silicon Valley, we are able to provide the benefits of cutting-edge Cloud & DevOps technologies for our clients to gain competitive advantage."
The featured article stressed on the ways in which Innominds has managed to stay focused in its efforts to provide superior, faster and reliable automation services, considering the pressing need clients have for time, cost and effort saving solutions.
Acknowledging the recognition, Innominds Chairman & CEO Divakar Tantravahi responded, "We are elated. It's a tremendous effort. This recognition further reinforces our belief that we are pretty much on the right direction and will continue to do better."
Read the complete cover story at cloudtechnologyinsights.com
About Cloud Technology Insights:
Cloud Technology Insights magazine is a pioneer in offering a complete picture of the emerging technologies and products, industry trends, research and innovation in areas - cloud-based technology and infrastructure.
About Innominds Software Inc.
Innominds is a trusted innovation acceleration partner focused on designing, developing and delivering technology solution in specialized practices in Big Data & Analytics, Connected Devices, and Security, helping enterprises with their digital transformation initiatives. We build these digital practices on top of our foundational services of UX/UI, application development and testing for technology companies. From ideas to commercialization, Innominds provides great ideas, engineering talent and proven technology solutions that help our clients succeed in today's highly competitive market. For more information, please visit www.innominds.com