Hyderabad, India, May 9, 2018: Innominds, in collaboration with the Amazon Web Services Hyderabad Meetup group, hosted a technical meetup session on 'Serverless Computing - A closer look at AWS Lambda' on 5 May, 2018.
The technical session was hosted by Murali Krishna Nallathiga, Architect-Software Engineering – Innominds.
The meetup was attended by various developers, designers and architects from various tech companies who were primarily interested in broadening their knowledge, get better acquaintance with AWS Lambda Architecture, cloud native and microservice development using Lambda Architecture. The session took a deep dive into architecture and its considerations including accelerated development choices.
The session included an overview of serverless computing and event-driven architectures with detailing on AWS Lambda Architecture. It showcased the areas where Lambda could be employed in cloud native solutions along with their practical considerations.
Furthermore, the session included a live hands-on experience on API development, CI/CD using AWS Lambda and API gateway. Recent advancement in Lambda development, testing and deployment using SAM Local, Codestar and Serverless frameworks were also discussed during the session.
Murali, the speaker of the session, demystified and shared his insights with the participants on the advantages and limitations of using a serverless architecture and AWS Lambda. He stressed on the early advantage an organization can gain by implementing and executing AWS Lambda.
"It was interesting to meet these professionals coming from different backgrounds and with varying experiences. It was an engaging and insightful discussion with the participants to better understand the cloud migration challenges faced by enterprises and how serverless computing is transcending to the next levels of scalability and dynamic infrastructure with managed services causing increased savings on operational cost," said Murali. "The participants shared their experience in adopting the AWS public cloud offerings and have shown interest in having more meetups to better understand the nuances of cloud adoption, native cloud application development, and microservices architecture alignment," he added.
The participants attending the session found the session very useful, knowledge-filled and resourceful.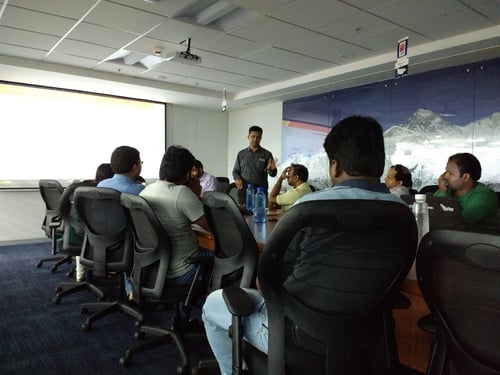 Sajed Ali, an architect working at a top tech company responded, "The AWS Lambda session was very interactive. It went very deep and we got nice exposure to the subject. Especially for the design principles for a right serverless architecture, AWS building blocks, AWS Lambda events & execution models." "We were able to understand serverless computing better and ways in which AWS Lambda supports it, the features and limitations of AWS Lambda and the development frameworks." he added.
Similarly, Srinivas Chejerla, a developer working at a prominent IT company said, "I was trying to find some resource to get acquaintance with AWS in a more meaningful way. This session helped me immensely. It was an informative session."
"It really helped us in acquiring the capability to develop, deploy and manage Lambda-based services to a larger extent. As AWS Lambda is fast emerging and continually evolving, we are looking forward to attend another session on AWS Lambda," he added.
Overall, the attendees were keen and enthused in learning about AWS Lambda architecture. They found the session very resourceful, considering the rising importance and the crucial role AWS Lambda plays in the Serverless Architecture framework space.
About Innominds Software Inc.
Innominds is a trusted innovation acceleration partner focused on designing, developing and delivering technology solution in specialized practices in Big Data & Analytics, Connected Devices, and Security, helping enterprises with their digital transformation initiatives. We build these digital practices on top of our foundational services of UX/UI, application development and testing for technology companies. From ideas to commercialization, Innominds provides great ideas, engineering talent and proven technology solutions that help our clients succeed in today's highly competitive market. For more information, please visit www.innominds.com