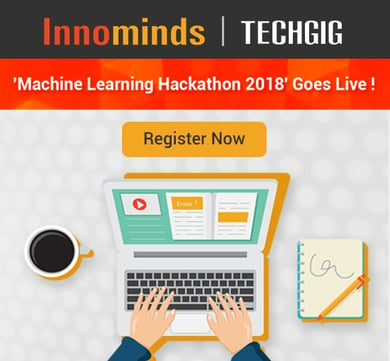 Hyderabad, India, May 21, 2018: Innominds is hosting a Machine Learning (ML) Hackathon event that aims to bring the ML community at one place wherein the contestants can exhibit their skills by creating an intelligent IT support system to proactively answer the IT ticket questions and provide suggestions by learning through historical tickets and documents.
It is a great opportunity for ML enthusiasts to showcase their talent by competing with the best in the industry. It is a networking platform wherein teams and individuals coming from various technological communities and backgrounds compete, share, grow and network.
The hackathon has its monetary benefits, too. The winners not only have the opportunity to win prizes worth INR 50,000 but the top 30 finalists will also get a shot at interview rounds with Innominds. Additionally, top three best submissions and winners will get a chance to co-develop the product with Innominds and win a certificate and memento respectively.
TechGig, an online tech community, has partnered with Innominds to facilitate the event. Enthusiasts could participate in the event by signing up for the same. Participants will be provided with two attempts during the screening round and unlimited number of attempts for the hackathon phases. One could take part in the hackathon event either as an individual or as a team, wherein the maximum number of team members cannot exceed three.
The last date of registration is 1 July, 2018
For complete detail about the event, please check the website https://www.techgig.com/hackathon/ml_hackathon
About Innominds Software Inc.
Innominds is a trusted innovation acceleration partner focused on designing, developing and delivering technology solution in specialized practices in Big Data & Analytics, Connected Devices, and Security, helping enterprises with their digital transformation initiatives. We build these digital practices on top of our foundational services of UX/UI, application development and testing for technology companies. From ideas to commercialization, Innominds provides great ideas, engineering talent and proven technology solutions that help our clients succeed in today's highly competitive market. For more information, please visit www.innominds.com