Mumbai, February 15, 2020: We are elated to announce that Rajya Lakshmi Achanta, Chief People Officer, Innominds, has been awarded 'Women Business Leader of the Year' for 2019 at the World HRD Congress, which took place between 15 – 17 February 2020 at the Taj Lands End, Mumbai. She was also recognised among '51 Most Fabulous Global HR Tech Leaders' 2019. The award recognises dynamic HR and business leaders who are an epitome of energy and focus, someone who transforms challenges into opportunities in this technology era.
Upon receiving the award, Lakshmi responded, "It is a privilege to receive this award from one of the top industry institutions. At Innominds, we understand that organizations must be empathetic towards their employees. Our people practices are focused on empowering our employees with continuous learning and creating a sense of self-belief in them, which is crucial for overall business success."
During the event, she shared her thoughts by delivering a keynote speech on the topic, 'Cementing the Relations at Workplace for Impactful Business Results' which got all round applause.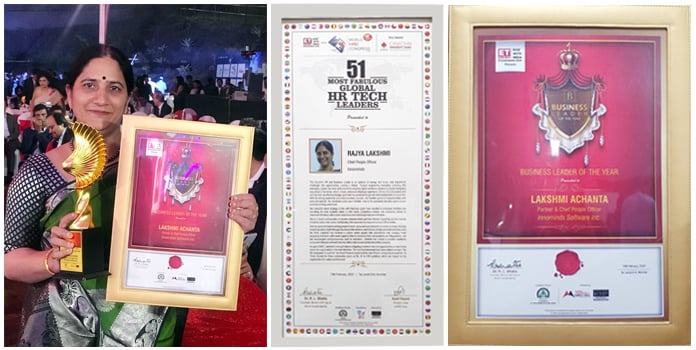 Lakshmi is known for her sensitized style of approach towards employees, which received appreciation from industry circles. She has been not just crafting and implementing employee-friendly HR policies but also spearheading her efforts in embracing and using technology to transform and reshape employee experiences.
The World HRD Congress is one of the top industry associations for HR leaders that have brought over 2000 HR professionals including industry's best thought leaders, strategic decision makers and peers from 133 countries on one platform. It aims to serve as the best networking platform to share insights on the global HR practices.
About Innominds
Innominds is a leading Digital Transformation and Product Engineering company headquartered in San Jose, CA. It offers co-creation services to enterprises for building solutions utilizing digital technologies focused on Devices, Apps, and Analytics. Innominds builds better outcomes securely for its clients through reliable advanced technologies like IoT, Blockchain, Big Data, Artificial Intelligence, DevOps and Enterprise Mobility among others.
From idea to commercialization, we strive to build convergent solutions that help our clients grow their business and realize their market vision. For more information, please visit www.innominds.com