Sairam Vedam joins as Chief Marketing Officer to accelerate the company's rapid global growth
San Jose/Hyderabad, January 16th, 2020 — Innominds, a specialist provider of Digital Transformation and software product engineering services for leading enterprises and global software product companies, today announced it has appointed a global marketing leader Sairam Vedam as its Chief Marketing Officer.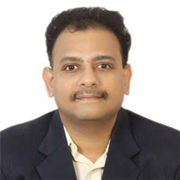 "Sairam Vedam is an accomplished 360-degree marketing leader with proven expertise in creating challenger brands of global repute in the enterprise software products and services space. We are delighted to have Sairam join us as he brings a rare blend of experience in marketing both Products and Services targeting global enterprises. Mr. Vedam joins Innominds as the company is recording significant growth and is seeing increased demand for its Platform-led enterprise Digital Transformation and AI-first product engineering services." said Innominds Founder/CEO, Divakar Tantravahi.
"Our vision to help next-generation businesses unlock the true value of Digital, leveraging our proven expertise across Devices, Apps and Analytics backed by AI, ML, IoT, Cloud, 5G, Mobility, Edge Computing, Agile and Devops services in the Industry 4.0 World, will be significantly strengthened with Sairam's leadership and experience, " said Mr. Tantravahi.
Sairam was most recently the CMO of Kore.ai, a market leader in the conversational AI platform space revered by global analysts for its disruptive approach in helping Global 2000 companies leverage the power of Conversational AI. Prior to Kore.ai, as the VP and Global Head of Marketing at Cigniti, he drove the 360 degree marketing function and positioned Cigniti as the world's second largest quality engineering, independent software testing services company.
Commenting on his appointment, Mr. Vedam said: "I am thrilled to join Innominds at this strategic inflection point in the market space where enterprises, software product companies and businesses are looking to unlock the value of Digital Innovation to stay ahead in the curve. While they strive to have their Digital Next initiatives implemented to success, it's strategic for them to look at partners of choice like Innominds, who can innovate, engineer, manage and power them to achieve market leadership in their areas of business.
IDC study that states that by 2025, 75% of product companies will outsource some or all parts of their product life-cycle function. Also, by 2022, 78% of enterprises will partner with technology services vendors that can orchestrate various technology innovations into business use cases to drive transformation at scale. From a vantage point Innominds is strategically positioned to cater to this demand."
About Innominds
Innominds is a leading Digital Transformation and Product Engineering company headquartered in San Jose, CA. It offers co-creation services to enterprises for building solutions utilizing digital technologies focused on Devices, Apps, and Analytics. From idea to commercialization, Innominds builds better outcomes securely for its clients through reliable advanced technologies like IoT, Blockchain, Big Data, Artificial Intelligence, DevOps and Enterprise Mobility among others.