Hyderabad, India - November 13, 2017 - It was a proud moment for Innominds, as Lakshmi Achanta, the company's Chief People Officer presented an intense and insightful 90 minute seminar on 'The Art and Science of Empathic Leadership' at the 30th edition of 'Hyderabad Software Enterprises Association (HYSEA) Leadership Development Workshop' for leaders and managers. The workshop commenced on 11th November 2017 at TCS, Deccan Park, HITEC City, Hyderabad.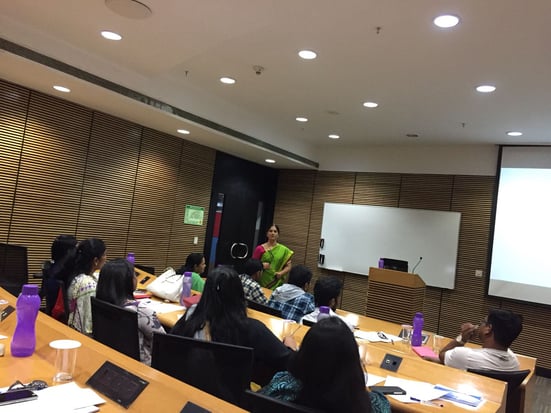 The objective of the workshop was to develop leadership competencies in leaders and managers who are currently in their junior and middle-level role.
Over the years, the Leadership program has attracted the attention of practicing business leaders.
Lakshmi Achanta stressed on the importance of bringing emotional intelligence to the workplace, imparting the skills of empathic dialogue and its application in building trust, resolving conflict, having difficult conversations, negotiating, solving problems, counseling, coaching and mentoring.
"Many people think leadership is about rank, power and privilege. But contrary to the popular belief, true leadership is the willingness to place others' needs above your own," Lakshmi said.
On true empathic leadership, Lakshmi reiterated, "It is about empowering others - creating a power of self-belief to achieve things they didn't think is possible." "Exceptional organizations look after and prioritize the well-being of their employees and in return their employees give everything they've got to protect and advance the well-being of one another and the organization," she added.
Members from 28 different companies attended the seminar. Managers, operations heads, associate directors, project managers and alike, coming from both technical and non-technical background, were part of this seminar.

Topics covered:
- Empathetic leaders interactions at workplace and its impact
- Aspects of self
- Importance of empathetic leadership
- Impact on team/ employee & organization
The program witnessed a plethora of insights and interesting ideas being exchanged.