Hyderabad, India - December 19, 2017 - We are proud to announce that Innominds has been recognized and listed amongst CIO Review's '20 Most Promising M2M Solution Providers - 2017.' Innominds made it to the list after an extensive evaluation by CIO Review's panel of experts amongst various leading technology solution providers.
CIO Review's judge panel comprising of CEOs, CIOs, VCs, industry analysts and its editorial board has reviewed the top M2M solution providers and shortlisted the companies that are playing a leadership role, making contribution to the industry and fulfilling the fast demands of the industry. The listing offers a comprehensive analysis on how these solutions are put to use, helping businesses gain an unparalleled advantage for their digital transformation.
Talking about the future of IoT, Anil Katakam, Chief Operating Officer at Innominds said "IoT is less about standalone smart devices and more about the symbiotic nature of the entire ecosystem. It is more and more critically, the endpoints and how they relate to the cloud, and where all data is stored and processed."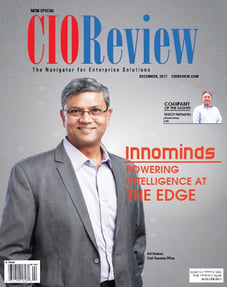 Innominds has been merited and chosen after an extensive scrutiny and analysis done on several solution providers. Innominds has been recognized as an innovation acceleration partner focused on designing, developing and delivering technology solutions for specialized practices in Big Data & Analytics, Connected Devices and Security, helping enterprises with their digital transformation initiatives.
About CIO Review
CIO Review constantly endeavors to identify "The Best" in a variety of areas important to tech business. Through nominations and consultations with industry leaders, its editors choose the best in various domains. The M2M Special Edition is an annual listing of 20 Most Promising M2M Solution Providers 2017 in the U.S.
About Innominds
Innominds is a dedicated product incubator for technology industry clients seeking help with Design, Technology and Engineering solutions across all stages of their product life cycle.