Hyderabad, India, October 28, 2017 - In a room filled with Techies, Innominds' Kalajyothi office witnessed an outburst of ideas being exchanged, as Innominds in association with 'Angular JS Hyderabad' group hosted a 'Technical brown bag session' on Saturday, October 28, 2017.
The topic was 'How Angular Universal supports server-side rendering, and how it helps in building SEO-friendly applications'. The meetup was attended by several software architects and ardent Angular JS enthusiasts from various tech companies.
The Tech Meeting was conducted by Rabi Kiran, Principal Engineer, Innominds and Dilip Kumar, Technical Lead, Innominds. Rabi and Dilip emphasised that while front-end applications provide rich and interactive User Interface, the content presented on these sites is hard to read for most of the search engines. Due to this, these applications are hard to share and linking them on social media SEO- friendly applications, generate poor previews. Angular Universal addresses this problem.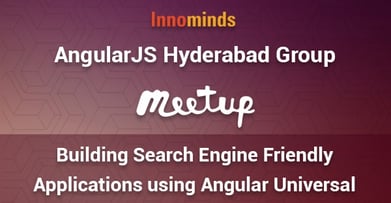 Rabi said, "We need the search engines, social networks and users of the application to see a server-rendered view — as server-side rendering is a reliable, flexible and efficient way to ensure all search engines and social networks can fetch the page content."
Dilip Kumar, co-speaker at the event added, "Angular Universal offers both the user experience and high performance of SPA's combined with the SEO friendliness of static pages."
Topics covered in the session:
Introduction to Angular Universal
Front-end applications and Search Engines
Setting up Angular Universal with Angular CLI
Adding Angular Universal to an application with multiple routes.
The session was much applauded for its nature of high interactivity, problem-solving and openness.
"It was an invaluable session and was a great learning platform," quips Ravi Teja, one of the participants.
"Great session by Rabi and Dilip. The Brown bag session was very interactive and helpful. Tech Meetup addressed most of my queries on the Angular JS usage." says Nitin, another participant at the event.
When asked, about the participants, Rabi said, "The participants were very enthusiastic asking several interesting questions. Am sure that it was as much a learning experience for us, as it was for them. Looking forward to more such events."
Dilip added saying, "The participants found this session to be very resourceful and informative. Look forward to participating in similar sessions in future."
Overall, the meeting was eventful, with opinions coming from different corners, leading to an active and engaging discussion. The attendees were keen on having another session in the near future.