Hyderabad, India, November 16, 2018: Innominds Software Inc., a leading digital transformation and product engineering company was conferred with 'Best Employer Brand Award' 2018 at the recently held 13th Employer Branding Awards event, which was held at Taj Banjara, Hyderabad. The awards were hosted by Employer Branding Institute-India.
Telangana Best Employer Brand Awards 2018 features top organizations from the state that have showcased exemplary work in the field of Human Resources (HR) and have used the tool of marketing communication effectively for HR development. The key criteria taken into consideration for the awards were as follows:
Translating and combining vision, action and HR strategy
Building line to mesh HR strategy with business
Cultivating competencies for the future to enable organization to be future-ready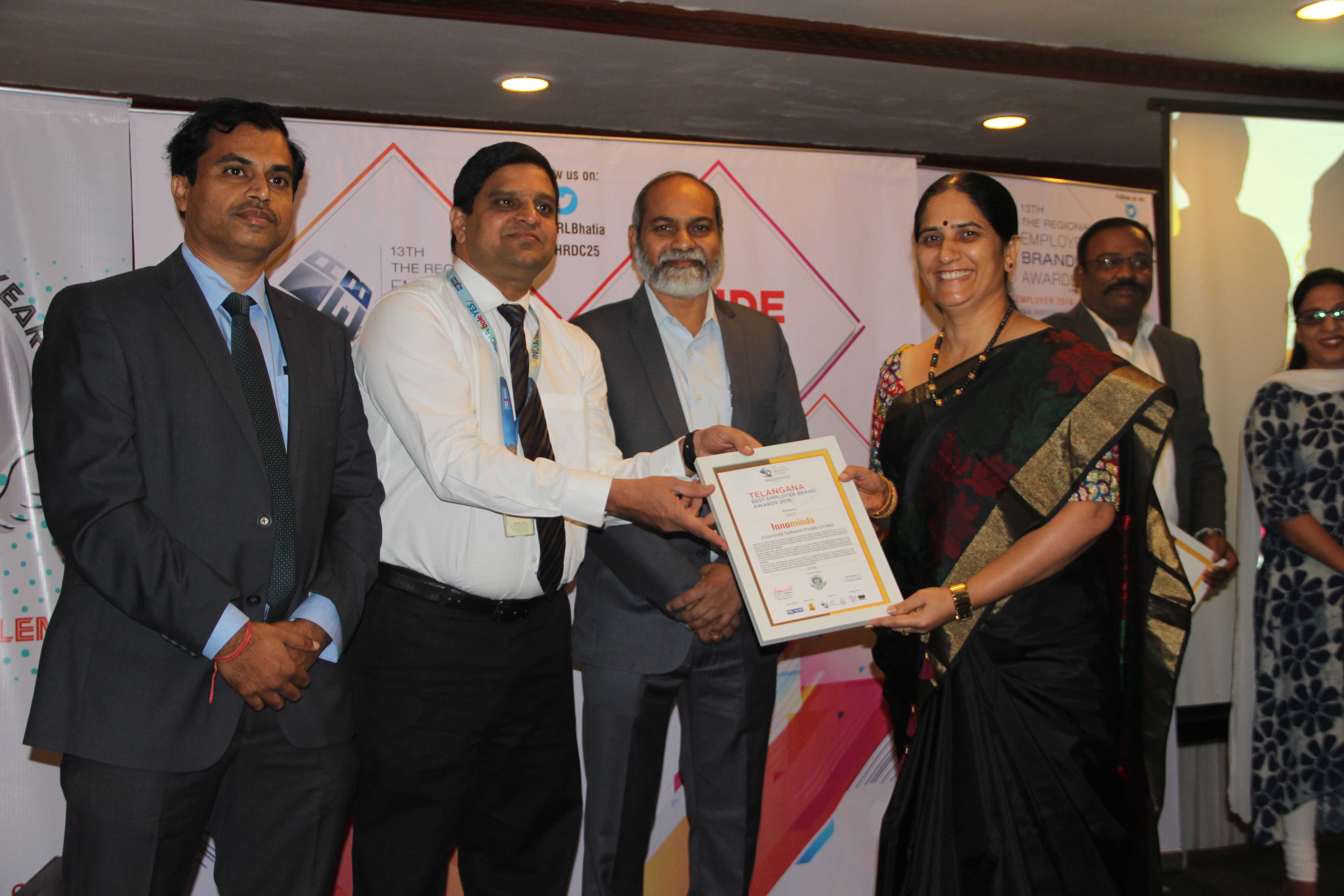 "It's an honor and we are humbled to receive this award on behalf of the Innominds family at the prestigious 13th Employer Branding Awards event," said Lakshmi Achanta, Chief People Officer at Innominds. "This is a true testimony to Innominds' relentless commitment to have an human-centric approach, which helped create a high performing and unique diverse workforce," she added.
The Employer Branding Institute is a virtual organization wherein senior leaders of HR connect with each other in the digital world to share best practices in employer branding and outstanding professionals in several countries who are contributing to "Talent Management, Talent Development and Talent Innovation" and are a part of the Employer Branding Institute.
"We have always made a conscious effort to create an environment where employees feel respected and every individual is valued. We take pride in building Innominds as a value creation platform for its employees." said Divakar Tantravahi, Chairman and CEO, Innominds.
About Innominds
Innominds is a Product Engineering Services and Solutions company headquartered in San Jose, CA. It offers co-creation services to enterprises for building solutions utilizing digital technologies focused on Devices, Apps, and Analytics. The Innominds team is responsible for building better outcomes for its clients through reliable, advanced technologies like Blockchain, Big Data, Artificial Intelligence, Cloud & DevOps and IoT among others.