Hyderabad, India, February 16, 2019: We are pleased to announce that Lakshmi Achanta, the Chief People Officer of Innominds, has been accredited with the 'CHRO of the Year' 2019 award.
The award, which is given for employee engagement leadership, was presented by ET Now at the World HRD Congress event, which was held on February 16, 2019, in Mumbai.
Fueled by her intrinsic employee-centric approach towards business and for being successful in creating an innovation-filled working environment, Lakshmi Achanta has known to have played a pivotal role in transforming and creating a work culture that's filled with motivation, fun and innovation.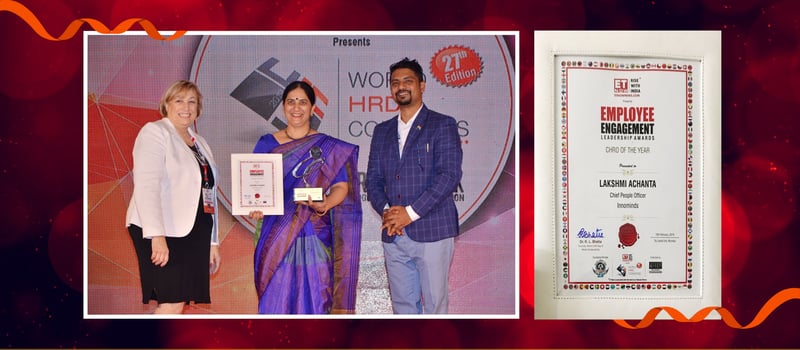 "I am very pleased having received this award. We, at Innominds, always believe that giving employees the necessary power, agility and freedom will bring lots of positive changes, which will help improve their individual and team productivity," said Lakshmi. "We are determined to keep up this momentum, focusing more on employee welfare by constantly optimizing the work culture," she added.
About the World HRD Congress
World HRD Congress brings together around 2000 professionals from over 133 countries. It focuses on elements such as HR Tech, Diversity and inclusion of women leaders in HR, and much more. It covers various HRM and HRD issues at a national level and is among the largest rendezvous for HR professionals.
About Innominds
Innominds is a leading Digital Transformation and Product Engineering company headquartered in San Jose, CA. It offers co-creation services to enterprises for building solutions utilizing digital technologies focused on Devices, Apps, and Analytics. Innominds builds better outcomes securely for its clients through reliable advanced technologies like IoT, Blockchain, Big Data, Artificial Intelligence, DevOps and Enterprise Mobility among others. From idea to commercialization, we strive to build convergent solutions that help our clients grow their business and realize their market vision.