IIT Mumbai, India, May 18th, 2017 - We are pleased to announce that two of our representatives, Hrishikesh Huilgolkar and Harsh Vakharia, who were a part of team Mjolnir have won the Vitalik Buterin Blockchain Excellence award at the Blockchain India Week Hackathon 2017.

Zero Field Labs and Fintech Storm in association with Ethereum Foundation organized the India Blockchain Week in IIT Mumbai from 12th to 18th May 2017. More than 100 developers and business analysts participated in the event. Special guests included Vitalik Buterin, the inventor of Ethereum, Dimitry de Jonghe from BigchainDB, Andreas Junge and Andrew Keys from ConsenSys.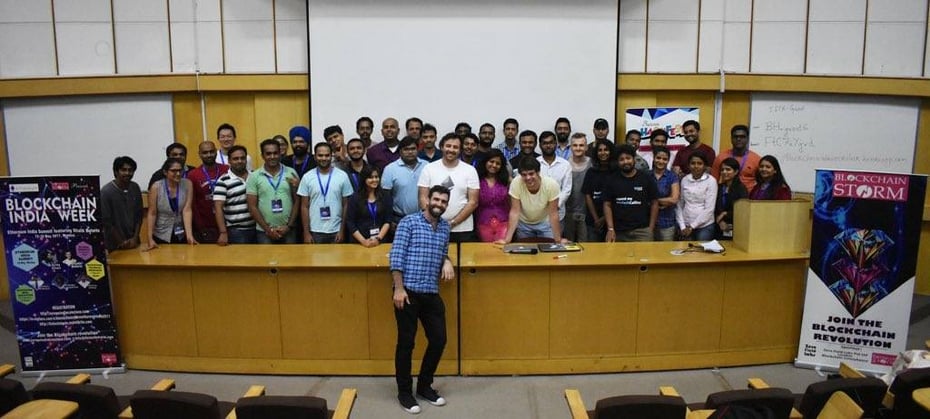 A hackathon was organized at IIT, Mumbai to develop a business case and an application to demonstrate the power of decentralized applications on Ethereum platform. Different projects were built including Roji – banking the unbanked, Agrochain - provenance on the supply chain management using Blockchain, Thunder network – millions of free microtransactions per second, etc. Team Mjolnir was one of the 5 teams selected for the finale where they got a chance to pitch their projects to Vitalik Buterin.
The winning team built a payment channel using Ethereum smart contracts. The project allows millions of transactions per second on top of Ethereum network. The team consisted of Hrishikesh Huilgolkar (@hrishikeshio), Harsh Vakharia (@harshjv) from Innominds, Sohan Agate (@sohanagate) from Brainbot and Girish Ramnani (@girishramnani) from Morgan Stanley.
The Innominds team has also been invited to the Interledger Workshop and Hackathon - Berlin, happening on 1st & 2nd June to showcase their demo to eminent technologists.