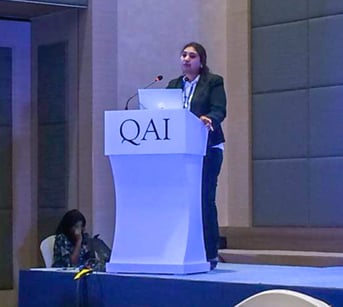 Bengaluru, 07 December 2018: Based on the theme of 'Quality by Design', the 18th Annual International Software Testing Conference that was held between December 6-7, 2018 at Bengaluru, concluded with emphasis on convergence of testing, lean intelligence & automation to speed up the delivery life cycle of a product. The event was attended by over 800 QE practitioners and 75 industry and thought leaders with 14 plenary keynote sessions and 25 best practices presentations.

Innominds, a thought leader in the field of Quality Engineering, was represented by Mayuri Darabastu, Manager Quality Engineering with specialization in RPA and AI led Quality Engineering, wherein she gave an insight on ways in which, AI-enabled testing is driving the future of software testing and quality engineering. Mayuri, in her 30 minutes interaction, touched upon pointers and factors such as the challenges faced in the field of testing and how AI empowered patterns and insights help optimize testing on what to test, rather than testing everything.
"AI-enabled testing is changing the way professionals are approaching testing. With the pressure of getting it right the first time, quality testing is relying and taking advantages of AI-enabled testing that is making software development and delivery processes agile," said Mayuri.
"I believe that the most important solution to overcome increasing Quality Assurance and testing challenges will be the introduction of machine-based intelligence," she added. She provided the audience with a 360 degrees perspective on how AI can identify test scenarios and test case patterns based on customer's behavior, usage patterns and provided recommendations to test new scenarios with better testing techniques and increased coverage; and demonstrated much acclaimed AIQEP™ (AI-Driven Quality Engineering Platform) and the associated toolkit.

Sai Chintala, President, Quality Engineering and Innovation, Innominds, felt that the AI driven innovation is well on its way to write a success script. "At Innominds, we combine our knowledge base and proven strategies to delight our clients. We are of firm opinion that AI-Driven Quality Engineering Services (AIQEP) platform, which provides recommendations for better testing techniques and increased coverage, offers both ISVs and Enterprises an unrivalled value proposition," he said.