Drive Productivity with Innominds Next Generation Testing Platform
Today, majority of organizations follow a traditional practice in test automation, wherein only a few areas of software test life cycle are considered for automation. The focus is on automating smoke and regression suites, which opens to challenges around test automation and application quality. In this era of digitalization, Quality Engineering has become the fulcrum of innovation and for an organization to be at the top of their game, they need an integrated end-to-end comprehensive intelligent test automation strategy.
Innominds Approach – Test Automation as a Service
Innominds is one of the leading QE services company, which provides support to client's business objectives by architecting the custom test automation framework and designing end-to-end automation strategy in tandem with enterprise goals. We extend our services by understanding the current automation challenges, practices & capabilities, performing tool feasibility assessment & analysis and defining a long-term roadmap to improve automation capabilities over a period of time.

Innominds Differentiator – Harmony a Test Automation Accelerator
To drive efficiency and quality, Innominds Quality Engineering specialists have built Harmony, a robust next-generation testing platform that solves the testing problems faced by enterprises and shape their digital future. Harmony offers an array of testing across a wide range of industries, digital technologies, and applications. The testing platform is a robust solution built with industry best practices and techniques, leveraging open source and commercial tools, and can seamlessly support test automation for web & mobile apps and APIs. Harmony framework consists of reusable test automation assets, jump start kits, tools, and automation guidelines & best practices, which helps to kick-start the automation project.
Harmony has been designed to keep up with the rapid pace of innovation, addressing the challenges and implementing the best practices learnt from our experience while serving clients, which is devised to address today's demand for digital disruption. The state-of-the-art testing platform not only reduces the cost of delivery and cycle times but also improves customer experience.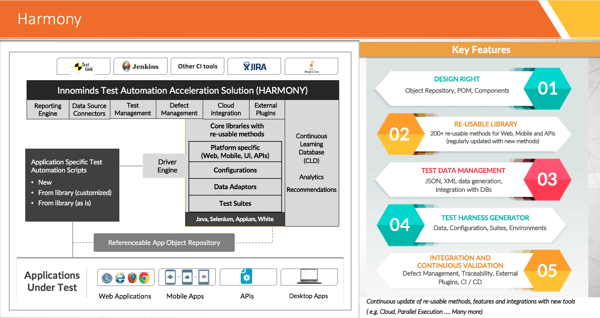 Harmony integrates with all the leading continuous integration and continuous deployment tools for transforming DevOps initiatives into a successful journey. It generates predictive and prescriptive analytics that can be integrated with popular application life cycle management tools such as HP ALM and Bugzilla via it's iFusion accelerator. Harmony has Machine Learning (ML) and AI-based analytics engine (via its integration with iFusion accelerator) that analyzes historical test reports, generates variety of test analytics providing insight into product quality and defect trends. Harmony performs comprehensive trend analysis and publishes intelligent dashboards through sophisticated ML models giving it the ability to predict release quality.
Benefits:
Reduce test script development by almost 60%
Ready to use built in reusable methods
Faster test cycle without compromising on quality
Increase in overall ROI by almost 30%
Increased test automation coverage
Customizable and Just-In-Time reports
Compatible with cloud integration