Partner with Innominds for A Comprehensive Testing across Digital Ecosystems
Today, digital technologies are rapidly transforming the business practices to stay ahead of the competition. The existing digital developments like social media, mobile, IoT, Analytics and smart devices are some of the enablers for this transformation and determines how most of the customers engage with businesses in general. However, the quality of the application plays a key role and even minor issues can cost business it's reputation. This drives the need to focus on Quality Assurance (QA) to achieve successful digital transformation. QA plays a major role in testing multiple platforms and interfaces, which, in turn, shifts the focus from traditional QA towards integrated testing of various embedded software and digital devices.
Innominds' Approach to Digital Transformation Quality Assurance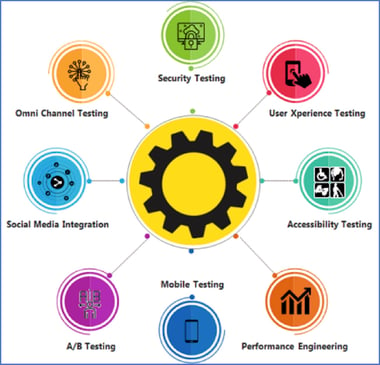 Innominds is one of the leading QE services company, which provides digital QA test experts to conduct comprehensive testing across multiple platforms and interfaces, which includes Cloud, Mobile, Social Media and Connected Devices. Our test experts ensure that all connected systems are thoroughly validated for user experience, Omni Channel Experience, compatibility, responsive web, A/B Testing, usability, accessibility, network, and security and performance.
For digital QA, Innominds established a Test Centre of Excellence (TCoE), which would work explicitly in the area of Digital Assurance Testing and will enable organizations to scale up the testing process and offer new solutions, which gives higher quality in a shorter timeline and at a reduced cost.
To drive efficiency and quality in Digital QA, Innominds Automation CoE specialists have developed Harmony, a robust next-generation testing platform, to solve the testing problems faced by enterprises and shape their digital future. This framework has been built to fulfill all QA-related requirements around continuous build, deployment and monitoring.
Our Key Strengths:
Our Digital QA & Testing solutions meet the increasing demands to prevent failures that could impact customer value
Comprehensive bouquet of services to validate Digital Transformation
Best-in class Digital QA model that integrates in Agile and DevOps way of working
Scalable and flexible TCOE to cater to Digital Transformation testing needs
IoT test lab with all possible devices and systems