Hyderabad, India, December 18, 2021: Innominds SEZ, a division/subsidiary of the software and digital engineering products company Innominds, has received the award for clocking the fastest growth in the INR 100 Cr revenue category at the HYSEA 29th Annual Innovation Summit, held on 16th Dec 2021 at HICC Novotel, Hyderabad.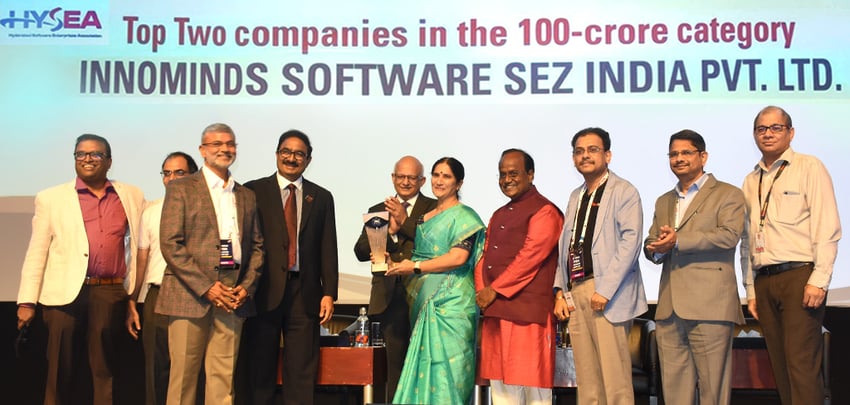 Hyderabad Software Enterprises Association (HYSEA) is the apex organization that brings together the various IT and ITeS organizations under one umbrella to network, transfer knowledge and work closely with the Government and other stakeholders for business growth, social development, and economic prosperity of the state.
Innominds was also a proud finalist in the 'Established Product' award category at the HYSEA Product Awards and Expo 2021 for showcasing the latest innovation built around its iFusionTM platform: 5G Powered AI and Computer Vision-Based Robotic Guidance System for Medical Surgeries.
As an advanced analytics solutions platform, iFusionTM helps companies generate insights from big, complex and heterogenuous data at reduced cost and speed to operationalize AI faster. Innominds solutions based on this homegrown platform and accelerators are equipped with out-of-the-box data, algorithms and rich AI Lifecycle management functionalities that provide scalable MLOps.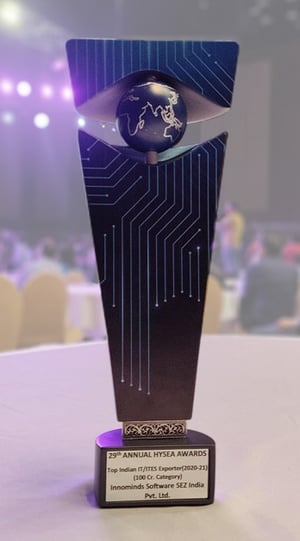 "Advanced robotic surgery systems, together with 5G-enabled end-to-end connectivity capable of low latency, are poised to reduce preventable medical errors dramatically. The world's top and best surgeons can't be everywhere. But through the data and intelligence gathered through our iFusionTM platform, the expertise and insights of world-renowned surgeons can be omnipresent. The unique platform developed by Innominds supports minimally invasive surgical systems (laparoscopes, arthroscopes, and robots) to collaborate with surgeons autonomously", said Ravi Meduri, Executive Vice President, Innominds.
"The digital capabilities enabled by software enable companies to scale new heights and achieve market leadership. We have been recognized as one of the top two IT/ITES exporters in the 100 Cr category in Telangana state during a time when the industry was facing challenging conditions because of the ongoing pandemic. We have not only overcome these challenges but have exceeded benchmarks and have been growing at an unprecedented level", said Divakar Tantravahi, Chairman and Chief Executive Officer, Innominds.
"As a leading organization we continue to invest in ensuring our employees achieve all round development. We have been growing at a fast pace inspite of the ongoing pandemic and continue to attract best of the breed talent. Our sincere thanks and wishes to the entire Innominds family for the support extended even while enduring the pains of the pandemic and the collective will to excel," said Lakshmi Achanta, Chief People Officer at Innominds.
About Innominds
Innominds is an AI-first platform-led digital transformation and full-cycle software product engineering services company headquartered in San Jose, CA. Innominds powers the digital next initiatives of global enterprises and software product companies with integrated expertise in devices and embedded engineering, software apps and product engineering, cloud, analytics, DevOps, data, security, and quality engineering. It works with ISVs to build next-generation products, SaaSify, transform total experience, and add cognitive analytics to applications.