San Jose, California, February 16, 2017 - Innominds Software Inc., a leading global innovation acceleration partner for enterprise companies, today announced it was honored with the "Dream Companies to work for" award at the World HRD Congress event held on February 16, 2017, at Taj Lands End, Mumbai. Innominds ranked 36 out of Top 75 across the Global industry segments.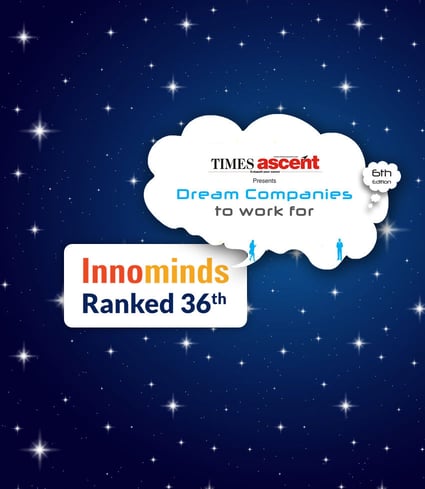 The World HRD Congress Awards recognizes the efforts of organizations demonstrating excellence through their innovative programs and showing measurable business results to drive organizational excellence. Innominds participated in a rigorous selection procedure competing with 750 Global organizations across various industries.
"It is a great honor for the entire Innominds Team to win this award at the prestigious World HRD Congress event," said Lakshmi Achanta, Chief People Officer at Innominds. "This is a great testament of Innominds' commitment to maintaining top talent and industry-leading HR practices. We believe that our employees are our biggest assets. As Innominds continues its growth this year, we will strive towards continued improvements as a dream employer."
"From the very beginning, we set out to build the kind of company where people want to go to work every day and excel. This includes a place where everyone feels respected, valued and offers opportunity to work on innovative technologies." said Divakar Tantravahi, Chairman and CEO of Innominds. "Our culture is a result of demonstrating our Corporate Values in how we run our business, how we care for our customers, and by hiring people who share that commitment and hold each other to those values in an environment of openness and collaboration."
Innominds was recently recognized for the third time as one of the Top 50 Best Companies to Work for in India by Great Place to Work®. To learn more about Innominds and our Corporate Values, please visit www.Innominds.com.
About Innominds Software Inc.
Innominds is a trusted innovation acceleration partner focused on designing, developing and delivering technology solution in specialized practices in Big Data & Analytics, Connected Devices, and Security, helping enterprises with their digital transformation initiatives. We build these digital practices on top of our foundational services of UX/UI, application development and testing for technology companies. From ideas to commercialization, Innominds provides great ideas, engineering talent and proven technology solutions that help our clients succeed in today's highly competitive market. The company has 6 global locations and over 1,000 employees. For more information, please visit www.innominds.com