November 20, 2020, San Jose, CA — Innominds is glad to partner with Clavent for their upcoming event TestFest - a series of software testing mini conferences coming up in 8+ countries namely USA, South Africa, Australia, England, Philippines, Brazil, Singapore & India with 8 hours of live amazing sessions distributed over 2 days and featuring talks by 10+ speakers and will be attended by 200+ organizations.
The TestFest will bring together hundreds of experienced like-minded people, who seek to improve their skills to fit new market requirements and stay tuned with the latest trends! The summit will provide an excellent platform to keep up-to-date with the latest industry trends, exchange experiences, discuss and deliberate ideas and benefit from networking opportunities.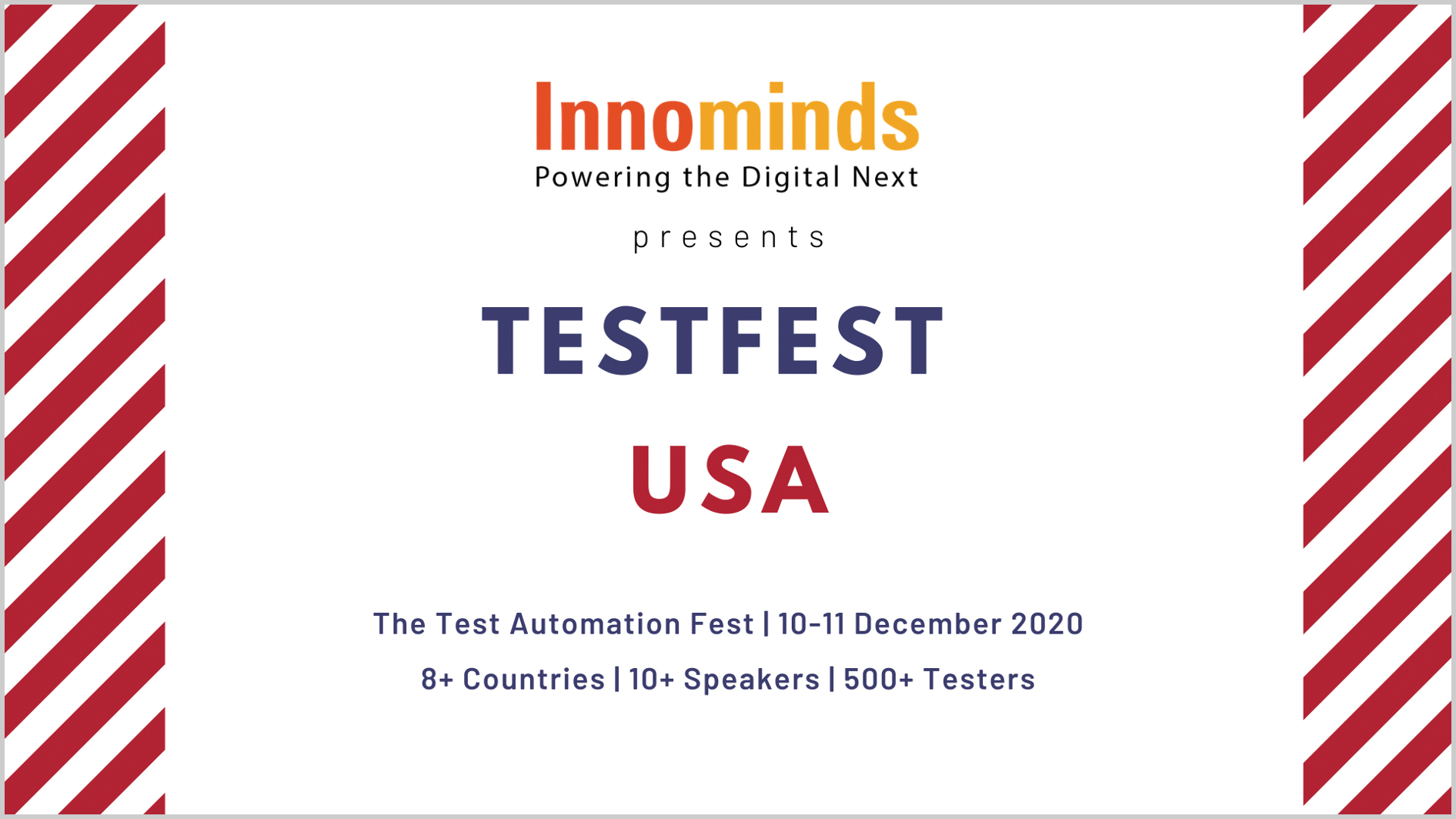 The first edition will be organised in the USA on 10th & 11th of December virtually.
Testfest is sponsored by Innominds, an AI-first, platform-led digital transformation and full cycle product engineering services company headquartered in San Jose, CA. Innominds powers the Digital Next initiatives of global enterprises, software product companies, OEMs and ODMs with integrated expertise in devices & embedded engineering, software apps & product engineering, analytics & data engineering, quality engineering, and cloud & devops, security. It works with ISVs to build next-generation products, SaaSify, transform total experience, and add cognitive analytics to applications. Innominds delivers better quality software at breath neck speeds to its global customers leveraging its state of the art AI driven Quality engineering platform called iHarmony, that can provide up to 100x software test acceleration through intelligent automation.
Innominds is delivering the Keynote Session on "AI Driven Quality Engineering – The Future of Software Testing". It is slated to take place on 10 December 2020 at 10:05 AM PST and will be hosted by Sai Chintala, President- Quality Engineering and DevOps, Innominds; and Sairam Vedam, Chief Marketing Officer, Innominds. The session would provide valuable insights on how Artificial Intelligence can be leveraged to deliver better software quality at breath neck speeds for Global Enterprises, ISVs and OEMs.
The TestFest USA conference is set to take place on 10th and 11th of December starting 10 AM PST until 2 PM PST and will feature companies like IBM, Capgemini, 1-800 Contacts, MakeMusic, Siemens, Cisco, Toast Inc, Macys, Workday, to name a few which are participating in the conference.
Read the global media coverage on TestFest here.